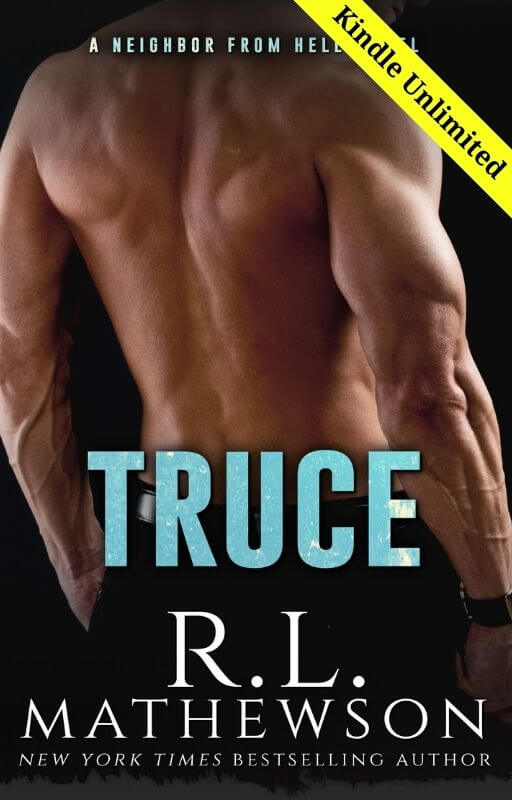 The only thing that Robert Bradford wanted was to escape his past, but one night spent in the arms of the woman that destroyed his life was about to change everything in this historical romantic comedy from New York Times bestselling author R.L. Mathewson.
Elizabeth knows what's expected of her, perfection. She's the daughter of an Earl and expected to marry well, say and do the right things with a smile on her face when inside she's dying for a chance to escape. Thanks to an inheritance her godmother left her years ago, her chance will come with her next birthday. Her hopes of escape abruptly end when Robert, her childhood nemesis that she hasn't seen since they were children, comes back into her life and does everything within his power to make her pay for their past.
He hated her.
At least, Robert tried to hate her, but it was so damn difficult to hate someone that he couldn't live without. He tried to ignore her, tried to focus on anything but her, but nothing worked. Somehow, she made her way into his heart and started to make him want things that he never thought possible, made him smile and laugh even while she drove him out of his mind and started a legacy by turning him into…
A Bradford.
Reviews for Truce
I absolutely adore this series, but boooooy! This is my favorite. It was such a delight to read about Elizabeth and Robert… and how the food lunacy started. kkkkkk
I don't like historical romances so I passed this book at first. My advice to anyone? Don't do it.
–Cilene
Whenever I need a pick-me-up, I turn to R.L. Mathewson. Her quirky and sassy characters never fail to make me laugh. I can't even say how many times I've reread this book and the entire NFH series, but it's usually at least once a year… some years more than once.
–J.R.
Can't. Stop. Grinning.
The Bradfords are back! Or more appropriately, it's the Bradfords from way way back and oh so damn good.
R.L. Mathewson is an auto-buy for me, but her Neighbor From Hell series is a happy dance, high kicks, fist pumping, high fives all around auto-buy for me. This 4th book was definitely worthy of all of the hype I'd given it in advance. Although historical, Truce was reminiscent of Playing for Keeps (the first book in the series) and brought back those feelings that made me first fall in love with the Bradfords and R.L. Mathewson's writing.
There are very few series where I enjoy humor sprinkled over my romance. So often I find myself not scoring humorous romance novels high marks. I have read many reviews where readers express how much they laughed and loved the whole way through while I barely cracked a smile. And trust me; I love me some funny times…just not mixed with my romance. Often I find the humor overshadows the love story with the quips and one liners taking the forefront which can be distracting for me. This is NOT the case with the NFH series. The author so effortlessly weaves in the humorous dialogue and it feels natural and not forced; it is just the Bradfords being the Bradfords. I had a huge smile on my face the entire read, but I had just as many dreamy sighs and belly dips to keep the romance burning front and center.
I loved everything about Truce. I must give it 5 stars for how it made me feel. When I saw 100% pop up, my heart sank. The books in R.L. Mathewson's NFH series are few and far between so I will savor Truce and ride the high of Robert Lemonade and Beth for a few days (or maybe I'll just reread playing for keeps…again). *Le Sigh*
PS. I would definitely recommend reading book one and two in the NFH series first. Otherwise you'd be confused and more importantly would miss out on the multiple references (at the very minimum at least read book one).
–Kfogg
In the past I have enjoyed reads by R.L. Mathewson – and I was looking for a book by an author that I felt I could not go wrong with – a story that I could read and be lost with the story for a couple of days, characters that I would care about and just overall good writing.
I found it again with this R.L. Mathewson book, Truce. It was NOT what I expected. It started out in present day, but then within a few pages became an Historical Romance for the entire book until the very end where it went back to present day.
I fell in love with the 2 main characters. My number 1 true love in a book is a STRONG female lead. I like that the female does NOT always need her "prince charming" to swoop in and save her. I also LOVE a strong/alpha Male lead – one that respects a strong female. I really liked how the author wrote Elisabeth and Robert. Both characters have known each other since they were children and actually had a little rivalry going on between them. They loved to play practical jokes on each other – sometimes even mean ones, but no one actually got physically hurt – just sometime emotionally. They go for a time there when I don't see each other for just over 10 years and they change a lot – so much that they don't even recognize each other when they meet up again.
This story caused me to feel, laugh and just smile. I never thought of myself and a "historical romance" lover but with stories like this and "Outlander" my mind could be changed.
Love the story and plan to read many more by R.L. Mathewson.
–Kim
R.L.Mathewson……WOW!
I absolutely L.O.V.E this series, it's romantic, humorous, believable, heartbreaking & soooooo entertaining.
Truce is just pure genius right there.
If I actually read about the setting I probably would have questioned buying his, but since I would class this series as one of my all time favourites of everything I've ever read, I had just purchased & started reading without even taking a second to think about it.
So I brought the book is morning & have finished it already tonight (that's saying something because I have 3 kids to run around for, so I was sneaking my kindle at every opportunity -even while waiting for the guy at the petrol station to finish filling up his car that was ahead of me….almost cried when he drove off & it was my turn, although my tears would have added to my embarrassment when I realised the young teenager in the car next to mine was staring at me while he was waiting for his dad to finishing filling up his car. I'm sure he labeled me the crazy lady who was laughing at her lap since he wouldn't know I had my kindle there & reading the very funny pranks Elizabeth & Robert were up to). Since I normally read the bulk of a book at night after the kids bedtime it Serves me right for buying this in the morning & thinking I could start it while having my morning coffee!!
What I am trying to say is that I simply just couldn't put this down, it captivated me & every single page I was glued to.
WELL DONE ONCE AGAIN R.L.Mathewson your work is just fantastic.
–Jessie
This book had everything that made me smile, laugh, fall in love with these characters. Robert and Elizabeth were childhood enemies that torment each other than 14 years after their last exchange they meet and have a sizzling, hot encounter at a dance meant for find both suitable spouses, when they realize who each are and a unplanned pregnancy they marry Robert is the handsome, sexy, strong Bradford and Elizabeth is the beautiful, strong willed, witty woman. Loved this story and the love story that started the Bradford family. As all Ms. Mathewson books I couldn't put in down, wanted the story to go on and I loved the tie in of Jason and Trevor and the 5th anniversary gift. Great book!!
–Kindle Customer Sheryl
I absolutely LOVED this book. Robert is perhaps my favorite Bradford. Sorry Trevor. I really do not want to give ANYTHING away. So I'll be as vague as possible. At first, I didn't know what to expect..I mean historical Bradford? Pshhhh how could this be any good, right? I mean I love my Red Sox hating Bradfords and I knew this would lack with the Sox hating. I can not express how amazing this fourth book was. Hmm… I'll keep this short. Should you read it? YES. It was funny. I cried. I laughed. I made my best friend Cara buy the book. We laughed and we cried together and we grumbled about our lack of Bradford men. This was by far the most emotional Neighbor From Hell story. I loved seeing where the men came from and the underlying story and how tradition can stay strong. R.L has ruined me for men. I'm holding out for my Bradford. <3 Robert Lemonade
Christmas is just around the corner. This series would make an excellent Christmas present. If my mom is reading this…well you know what I want.
–Rosey Posey
Being a big fan of the Neighbors from Hell series I was really looking forward to Truce. Delighted to say that, for me, RL didn't disappoint – I loved Robert & Elizabeth!
With as much fun, banter and laughs as you'd expect from the series, it was a trip meeting up with the early Bradfords – and having the current family all together in the same book was fab!!
Although set back in time, I liked the fact that it kept the humour and feel of the other books. At times I forgot the story was being told in a historical setting, the book just pulled me in and the characters were entertaining and engaging!!!
As we've come to love with these books, there was a lot of laugh out loud scenes, a load of love/hate and fighting and a couple of WTH moments…… Trust a Bradford man to mess things up!!! 😀
If you're a lover of the NFH series, you'll fall for Truce.
–Tracy ~ Book Loving Pixies
R.L. Mathewson has done it again!
This book is another slam dunk. It's full of laugh out loud moments, sweet romance, lots of heat, and has the added bonus of being a historical (win!). It was so easy to get drawn back into the food and laughter filled world of the Bradford's… with their insatiable love of food that is second only to their love of their family. That is until said family gets in between them and food. All bets are off then (lol)
There's never a dull moment with the Bradford's and I love reading about their various antics and how they meet their matches in the women they love. I'm eagerly looking forward to the next in the series which looks very promising from the preview.
–Skbgirl
Another fantastic read from this brilliant author! Elizabeth and Robert are characters who will stick with me for a while – very well written.
I loved reading how the first Bradford man developed into the Bradford we all know and love from Playing for Keeps and Perfection.
The prologue with Jason and Trevor was a bonus – so sweet, and loved that they were tied into this book.
I don't usually read historical genre, but this was light, very enjoyable and well written.
Elizabeth is a likeable character and the perfect woman to help mold the first Bradford. She takes no nonsense and you can't help but want to be her friend.
Robert grows into his Bradford-ness quite well and of course this author never disappoints with the comedic antics of both characters.
I read a lot of this book with a goofy smile on my face
–Jodi
Boston Harbor
            "Ah, Robert?"
            "Shhhh, not while I'm praying," he said, momentarily losing his place before he started again, "thank you for letting us survive that trip from hell. Thank you for ignoring my prayers for a quick death when I didn't think that I'd be able to survive another day of starvation," he said, making her roll her eyes.
            "You were given three full meals a day just like everyone else," she pointed out, not bothering to mention the fact that on most days he'd received second helpings. She sat down on a bench near their luggage, wondering just how much longer he was going to keep this up.
            "I'm sorry for all the cursing that my wife forced me to do while I was on that boat," he continued, ignoring her even as he amused her. "As you know, she's been such a bad influence on me. Thank you for pulling me from near death and somehow giving me the strength to survive."
            "Near death?" she asked, frowning. "When were you near death?"
            "When was I near death?" he asked in stunned disbelief as he opened his eyes so that he could glare at her. "How could you forget all those times that I could barely move? When I struggled to find the will to live so that I wouldn't leave you a young widow? Did my struggle for survival mean nothing to you?" he demanded in outrage, terrifying the people that were forced to walk past him to get to the docks and making her wrack her brain as she struggled to figure out what he was talking about.
            "Do you mean those few times when you had a touch of seasickness?" she asked, unable to think of anything else that he could be talking about since he'd been the picture of health during the majority of the trip.
            "A touch?" he repeated in disbelief. "I nearly died!"
            "Because you were forced to miss breakfast a few times?" she asked, trying her best not to laugh or smile, but he looked so adorable just then that she admittedly didn't put up much of a struggle.
            "It was hell! Pure hell!" he snapped, shocking several of the women trying to rush past him.
            "Try having seasickness every morning and night," she said dryly as she stood up and gestured for several dockworkers to help them with their luggage.
            "That makes my ordeal worse!" he said, coming to his feet so that he could offer her his arm. "I needed my strength so that I could tend to you and keep you alive."
            "The peppermint tea did that," she said with a shrug.
            His gasp of outrage was simply too adorable. "You ungrateful brat! After everything I did for you to ensure your survival and this is how you repay me? With your mockery?"
New York Times Bestselling author, R.L. Mathewson was born in Massachusetts. She's known for her humor, quick wit and ability to write relatable characters. She currently has several paranormal and contemporary romance series published including the Neighbor from Hell series.
Growing up, R.L. Mathewson was a painfully shy bookworm. After high school, she attended college, worked as a bellhop, fast food cook, and a museum worker until she decided to take an EMT course. Working as an EMT helped her get over her shyness as well as left her with some fond memories and some rather disturbing ones that from time to time show up in one of her books.
Today, R.L. Mathewson is the single mother of two children that keep her on her toes. She has a bit of a romance novel addiction as well as a major hot chocolate addiction and on a perfect day, she combines the two.
In 2019/2020, R.L. Mathewson will be publishing Devastated, the first Anger Management novel, Tall, Dark & Furious, the 6th installment to the Pyte/Sentinel series, Irresistible, the long anticipated novel for the Neighbor from Hell Series as well as many more books throughout the year, paranormals, contemporaries, and YAs.