Neighbor from Hell Collection I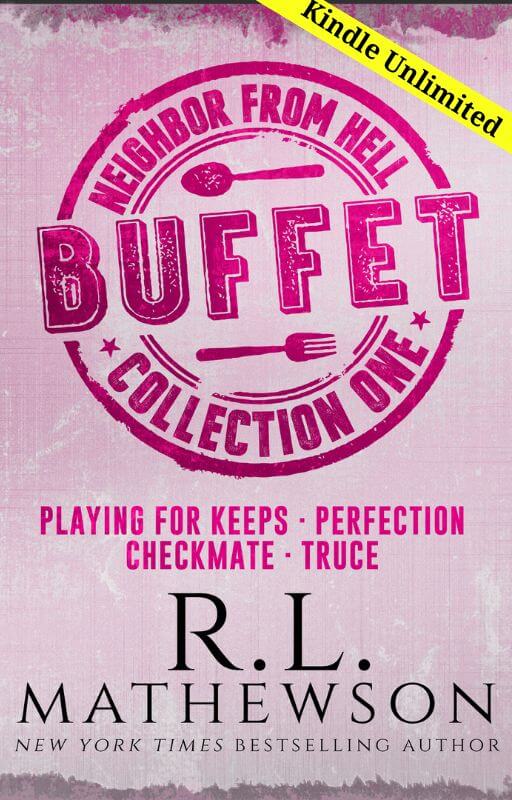 Playing for Keeps
Jason Bradford is about to do the one thing that he swore that he would never do, he's about to fall in love in this romantic comedy from New York Times bestselling author R.L. Mathewson.
Haley Blaine was done with being the world's biggest pushover and it was all thanks to the incredibly handsome man living next-door determined to make her life a living hell. After he'd finally pushed her too far, Haley decided to take matters into her own hands, and now…
She was terrified of falling for the one man that was guaranteed to break her heart.
The last thing that Jason expected was for his incredibly shy neighbor to lose her goddamn mind and attack him with a hose, but now that she had, he couldn't help but notice just how well she fit into his life. He liked having her around, loved the way that she felt in his arms and-
He was about to lose his goddamn mind.
She could do so much better than him…
Which meant that it was time to show her that this was anything but a game before it was too late.
Welcome to the Neighbor from Hell series.
Perfection
Trevor Bradford knew exactly what he wanted and it wasn't his plump little tenant who was driving him out of his mind, but with every touch, kiss, and caress, it was becoming more difficult to walk away in this romantic comedy from New York Times bestselling author R.L. Mathewson.
He never should have said those words, but once they were out…
Trevor would have done anything to take them back, but the damage was already done. Hoping to make it up to Zoe, Trevor offers to help her, hoping that it would be enough. The last thing that he expected was to find himself thinking about her. Hoping to put an end to this hold that she had over him, he offers her something more, only…
It wasn't enough.
Just once, Zoe wished that something in her life would go right, but that's not usually how things went. At least, not for her. So, when her life suddenly takes an unexpected turn and the man who'd never looked at her twice offers to help her, she realizes that she has nothing left to lose.
Except for her heart.
Checkmate
Rory James dreams of the day when she sees the last of the man that had been making her life a living hell since they were little, only to realize there was so much more to the man that she couldn't live without in this romantic comedy from New York Times bestselling author R.L. Mathewson.
There's nothing worse than living next door to your childhood nemesis, except maybe being forced to share your dream project with him, being blackmailed into going along with something that was just wrong on so many levels, and having your hot cocoa stolen by the person that drove you to drink it in the first place.
Then again, so was finding out that you were wrong.
Connor O'Neil will do anything to get what he wants and right now, he wants to get his hands on the one thing that would make all his dreams come true and he wasn't about to let little Rory James get in the way of that even if she was the one thing that he couldn't live without.
His only hope was that she never found out the truth. 
Truce
The only thing that Robert Bradford wanted was to escape his past, but one night spent in the arms of the woman that destroyed his life was about to change everything in this historical romantic comedy from New York Times bestselling author R.L. Mathewson.
Elizabeth knows what's expected of her, perfection. She's the daughter of an Earl and expected to marry well, say and do the right things with a smile on her face when inside she's dying for a chance to escape. Thanks to an inheritance her godmother left her years ago, her chance will come with her next birthday. Her hopes of escape abruptly end when Robert, her childhood nemesis that she hasn't seen since they were children, comes back into her life and does everything within his power to make her pay for their past.
He hated her.
At least, Robert tried to hate her, but it was so damn difficult to hate someone that he couldn't live without. He tried to ignore her, tried to focus on anything but her, but nothing worked. Somehow, she made her way into his heart and started to make him want things that he never thought possible, made him smile and laugh even while she drove him out of his mind and started a legacy by turning him into…
A Bradford.
New York Times Bestselling author, R.L. Mathewson was born in Massachusetts. She's known for her humor, quick wit and ability to write relatable characters. She currently has several paranormal and contemporary romance series published including the Neighbor from Hell series.
Growing up, R.L. Mathewson was a painfully shy bookworm. After high school, she attended college, worked as a bellhop, fast food cook, and a museum worker until she decided to take an EMT course. Working as an EMT helped her get over her shyness as well as left her with some fond memories and some rather disturbing ones that from time to time show up in one of her books.
Today, R.L. Mathewson is the single mother of two children that keep her on her toes. She has a bit of a romance novel addiction as well as a major hot chocolate addiction and on a perfect day, she combines the two.
In 2019/2020, R.L. Mathewson will be publishing Devastated, the first Anger Management novel, Tall, Dark & Furious, the 6th installment to the Pyte/Sentinel series, Irresistible, the long anticipated novel for the Neighbor from Hell Series as well as many more books throughout the year, paranormals, contemporaries, and YAs.