Media Kit
New York Times Bestselling author, R.L. Mathewson was born in Massachusetts. She's known for her humor, quick wit, and ability to write relatable characters. She currently has several paranormal and contemporary romance series published including the Neighbor from Hell series.
Growing up, R.L. Mathewson was a painfully shy bookworm. After high school she attended college, worked as a bellhop, fast food cook, and a museum worker until she decided to take an EMT course. Working as an EMT helped her get over her shyness as well as left her with some fond memories and some rather disturbing ones that from time to time show up in one of her books.
Today, R.L. Mathewson is the single mother of two children that keep her on her toes. She has a bit of a romance novel addiction as well as a major hot chocolate addiction and on a perfect day, she combines the two.

Contact Information
Email: Rlmathewson25@gmail.com
For information about translation rights, hybrid publishing, or publishing rights, please contact:
Lauren E. Abramo
Dystel, Goderich & Bourret
1 Union Square West, Suite 904, New York, NY  10003
212-627-9100×13

Social Media Links

Latest Book Releases
From bestselling author R.L. Mathewson comes the sixth installment of the
Pyte/Sentinel Series…
For readers who enjoy paranormal romance with a twist.
For three centuries, Trace waited for this moment, imagined all the things that he would do to the Pack that tried to kill him, and now that he was free…
All he could think about was the woman that he'd claimed as his own. She was everything that he'd always wanted and once he had his revenge, he would make her his.
Sam had resigned herself to a lot of things over the years, being the town joke, blacking out at inopportune moments, and living with a dog that hated her, but what she hadn't planned on was suddenly finding five large men destroying her basement, looking for a tomb that she never knew existed. In one moment, her life changed forever, leaving her to wonder how she was going to make it out of this alive.
Amazon ♦ iBooks ♦ Barnes & Noble ♦ Kobo ♦ Smashwords.com

Excerpt from Tall, Dark & Furious
"Where's your men?" a deep, exotic lilting voice that she could happily listen to all day asked slowly, the words a bit stressed as though he wasn't used to speaking, but even that didn't take away from the immense pleasure she took from listening to him speak even as her head continued to pound in agony. "Answer me, woman," the voice demanded, sending a tingling sensation throughout her body, which was sadly the most pleasure a man had ever given her.
Well, that wasn't entirely true, she thought a moment later as she yawned. Bob gave her a great deal of pleasure, but she wasn't sure that he counted since he required batteries.
"Huh?" she said, not bothering to open her eyes as she tried to hold onto the last tendrils of sleep.
"Where is your father? Husband? Your keeper, woman? Where is the man in your life?" the voice demanded harshly, but it was so damn sexy that she was having trouble getting mad.
She reached up and rubbed her aching face with her hands and for some reason she thought the action was odd but couldn't figure out why. "My father died ten years ago. I'm not married, and I don't need a keeper, but don't tell my brother Nathan that. He thinks that I do."
"Where is this Nathan?" the voice demanded sharply.
"Somewhere in Europe," she answered as she slowly opened her eyes.
When she saw the monster staring down at her, she clamped her hands over her mouth to stifle the scream that was threatening to escape her since the last thing she needed was to anger him. No, angering him would be a very bad idea, she thought as he reached down and grabbed her arms and hauled her to her feet.
"You have no man then?" he demanded as he studied her through a tangle of long gray matted hair.
No, not gray hair, she amended a second later when she caught a whiff of the dirt and dust matting his beard and hair together and sneezed. That seemed to startle a rather frightening growl from him. She tried to move away so that she wouldn't do it again, but he refused to release her, leaving her with no choice but to continue sneezing.
"You have no man?" he asked her a little more forcefully as if she wasn't currently setting a new record for sneezing and threatening to take her migraine to a whole new level of agony.
She went to answer him only to sneeze again, so she shook her head. She knew she could have lied, probably should have lied, but for some reason she didn't think he'd be all that happy when he discovered that he'd been lied to.
"Good. Then you're mine," he said, sounding pleased.
Devastated: An Anger Management Novel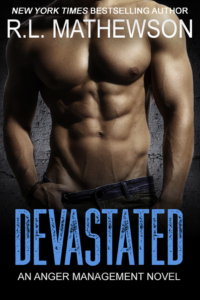 Bestselling author R.L. Mathewson takes on the impossible with the Anger Management series.
For readers who love to see someone who's been to hell and back finally get their happy ending.
Sometimes you have to go through hell to get what you want…
Everyone has something in their past that they'd like to forget, but for Kylie Davis there's no escaping her past. It followed her everywhere, determined to destroy her, and to make sure that she paid for the one thing that her family could never forgive her for.
Being born.
The last thing that Hunter O'Mallery needed was an assistant, but thanks to the deal that he never should have made, he has one. As long as she stayed out of way, he'd been more than happy to leave her alone, but now that she's caught his attention, he couldn't stop thinking about her. She intrigued him, drove him out of his mind, and he'd do anything to save her.

Excerpt
"Now, will that be ribbed for her pleasure, double ecstasy, ultra-thin, ultra-ribbed, or lubricated?" the devious thing that refused to admit defeat calmly asked, as she looked up from the list that he'd given her.
"Double ecstasy," Hunter bit out, beyond fucking intrigued by the cute little thing nodding absently as she returned her attention to the list that he'd made with the hopes of finally getting a normal reaction from the woman who was proving to be a challenge.
Yesterday, when he'd decided to move their morning meeting an hour early and had her join him for his workout, he'd expected her to balk at the idea, or at the very least, beg for mercy after the first mile so that they could finally come to an understanding, but not Miss Davis. When any other woman would have cried, bitched, or tried to entice him with a sweet smile and a little cleavage, she'd simply redoubled her efforts. Instead of admitting defeat so that he could clear up any misunderstandings that she may be harboring about her job and duties, she'd slapped one of those disturbing smiles on her face, clung to the treadmill, and forced her severely uncoordinated feet to move as she'd tried to discuss the busy work that he was throwing at her to keep her out of his hair for the day.
Everything that he'd thrown at her yesterday she'd accepted with a smile, a nod, and a murmured, "Yes, Mr. O'Mallery," and if it hadn't been for that defiant glimmer that he saw in her eyes every time she did it, he would have grown bored and dismissed her as a fucking kiss-ass and moved on. But it was that defiant look that had him once again wondering about her. He'd been around a lot of ass-kissers in his lifetime, men and woman who could make anyone believe that it was their greatest joy in life to be at someone's beck and call, but Kylie definitely wasn't one of them. It made him wonder why she'd taken a job where she would be expected to kiss someone's ass and fucking love it.
So, when she'd shown up bright and early this morning, dragging herself into his gym without waiting for him to summon her, his respect for her had doubled. Without a word, he'd climbed onto his treadmill and started it while she did the same, periodically reaching over to pick her up when her feet gave out as he wondered what he was going to do with her.
"Now, did you need me to contact an escort service as well?"
Beside strangle her that is.
"I don't need an escort service," Hunter bit out, narrowing his eyes on the devious little thing that was clearly enjoying herself and truth be told, so was he, probably more than he had in years.
"No, no, of course not," she murmured, making his lips twitch as she scribbled something on that list he'd created simply because he'd wanted to see what she would do.
"And this personal lubricant, should I look for oil-based? Flavored? Is warming a deciding factor?" Kylie asked, as she continued making notes.
"Surprise me," he drawled, leaning back in his chair as he watched her.
"Well, if that's everything then I should probably head to the store before they run out of edible glitter," Kylie said with that determined look in her eye that told him that this bullshit list of his hadn't fazed her in the slightest.
©Rerum Carta Industries, Inc. 2012. All Rights Reserved.