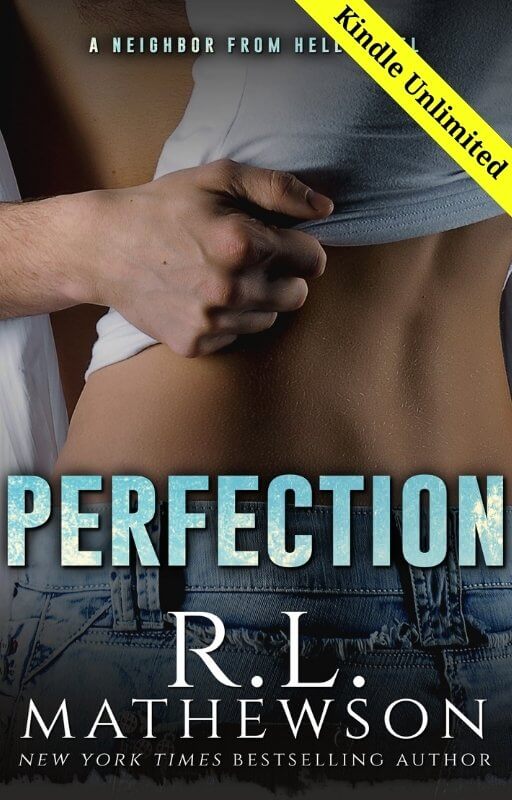 Trevor Bradford knew exactly what he wanted and it wasn't his plump little tenant who was driving him out of his mind, but with every touch, kiss, and caress, it was becoming more difficult to walk away in this romantic comedy from New York Times bestselling author R.L. Mathewson.
He never should have said those words, but once they were out…
Trevor would have done anything to take them back, but the damage was already done. Hoping to make it up to Zoe, Trevor offers to help her, hoping that it would be enough. The last thing that he expected was to find himself thinking about her. Hoping to put an end to this hold that she had over him, he offers her something more, only…
It wasn't enough.
Just once, Zoe wished that something in her life would go right, but that's not usually how things went. At least, not for her. So, when her life suddenly takes an unexpected turn and the man who'd never looked at her twice offers to help her, she realizes that she has nothing left to lose.
Except for her heart.
Reviews for Perfection
I guess the main point here is that in life we develop an idea of what we think perfect is supposed to be like. Then life shows us that perfect doesn't look a bit like what we thought it would, and if we're smart we'll see the difference. That if we grab for real-world perfection we will be rewarded with wisdom and joy.
The hero does something awful at the beginning. Give him a chance. He deserves forgiveness. You'll see.
A very satisfying, rewarding read by one of the cleverest authors writing today.
–Maggy
This book sucked me in and I couldn't put it down! Zoe and Trevor are neighbors and when Zoe has a really bad day at work, Trevor decides to help her out and puts in a word with his uncle for a job for Zoe. Zoe figures Trevor is being nice since she's not his type. Trevor thinks Zoe isn't his type, but she really intrigues him. He comes up with a crazy plan and gets Zoe to go along with it. Trevor's family is close and funny. It's funny how his family gets banned from restaurants. Loved this book and this series!
–Angie
I can't put into words how much I love the Neighbor from Hell series by RL Mathewson, Perfection being one of top 3 favorites of the series. RL nails writing a sweet, humor filled, blue collar romance perfect to read when you want to escape. The Bradford clan is a lovable, food obsessed, alpha group who love their women fiercely. Trevor and Zoe is always a delight of mine to read. I adore Zoe and her sass, she is one of the wittiest heroines I've read to date and love her a little more each time I revisit. Trevor is her perfect match-I love how protective and loving he is before he even realizes that he is in love with her. This story never ceases to make me smile, laugh, and swoon.
–Marcie (@thecliteraturecorner)
Trevor has it in his head what the perfect woman is. And for what he has in mind, Zoey is definitely not the perfect woman. The perfect neighbor in the sense that she never complains yes, but that's it. But, when one thing after another happens to Zoey and her patience is ready to snap. So when Trevor steals her food its the breaking point that finally makes her explode.
What starts off as a friendship of convenience, at least when it comes to food for Trevor, over time takes a turn.
Just like the first book in this series, I couldn't stop laughing. I also found myself asking questions like, "what could a person do to be put on a band list for a food delivery?" And then, 'what can a person do for an entire family to be placed on a banned list?' Then there's the question, 'what could be the reason an entire family to be banned from a all you can eat buffet?'
–Terri Handshumacher
These books have everything you need to just relax, laugh, and just forget about your worries for a while. The hero makes you mad, sad, and laugh and so does the heroine. I wished Zoe had a better opinion of her own worth, but her character grew during the story and you understood her sad background. Trevor had his own self esteem issues to deal with, along with the "Bradford eating disability" that was hilarious. R. L. Matheson never fails to deliver a laugh out loud respite from everyday life. You will never be sorry you tried one of her books, you may, however, develop your own "Bradford addiction", and find yourself reading the entire series!
–Amazon Customer
This second book was hilarious! What made this book funny was these two odd characters coming together. Trevor is a rough character with an appetite like Paul Bunion and soft even though he does not like anyone to see his soft side. Zoe is intelligent, quiet, simple, and well organized. Even though she has her insecurities she tries to come out of her shell to come more sexy and feel wanted. Since she is use to being alone she never tried to push herself to get involved with anyone. I liked that Trevor saw something in her other than sex. When he tried to pursue her in his own way I saw how boyish, petty and immature he was and would stop at nothing to get Zoe to be his permanently. The Bradfords Rock!!! They are like the men in my family think they know it all, would eat you out of house and home, smartasses, protective and love really hard.
–JS
I love, love, love this series! I've read all the books more than once and am reading them again to prepare for the latest in the series. Trevor and Zoe are terrific. Their friends with benefits arrangement starts out innocently enough…or as innocently as a relationship like that can. But they can't stay away from each other. Trevor, with typical Bradford idiocy, thinks nothing of the fact that he can't go more than a few hours without having his hands on Zoe. He also pays no attention to the fact that he never looks at another woman, even though he continually tells himself that their arrangement will only last until he finds the perfect woman to marry. Zoe knows she's falling for him but decides to take him while she can have him. She's fully aware that she's courting heartbreak. The arrogance of the Bradford male cracks me up!! And the way their women taunt and tease them makes me laugh out loud. Grab this book and prepare to laugh yourself silly. You'll love it!! Watching a Bradford fall hard for a woman is a great way to spend an afternoon.
–Holland251
I know this review won't give how much I love this book justice, but I'll give it a go. I definitely loved it more than the first, and I thought the first was great too! I really related to Zoe, so this story hit close to home. She is strong and funny and I loved her and Trevor. I know he isn't perfect and sometimes he can be a pig but I haven't met a guy who hasn't said some of the things he says, and I know they have the same thoughts. For me it just made me love him more, because he felt real. I felt their connection, I felt the love for them grow and develop and you could see them both slowly changing. I recommend this book for anyone looking for a real love story with some great bedroom scenes! It's fun to read those steamy scenes PLUS getting a real story with it, and be able to have a good laugh. Can't wait to read more work from this author!
–Jessica Madden
They say laughter keeps you young, well if that is true, I think I subtracted at least ten years from my climbing age after reading this book. I will not waste my time summarizing the book, that is what the back cover copy and provided book description is for. No…I will use my words to advise future readers that if they pass up this book, they will pass up a few hours of laughter. This story has a perfect mixture of honest human frailty, neurotic behaviors and steamy, sexy encounters.
Yes, the leading male character is a jackass, but as his layers are peeled away you find a way to understand him, as he learns to understand himself. Yes, the leading female character is an insecure pushover, but what person has never been insecure with something about themselves, and allowed someone or something to get over on them at least once in their lifetime, no one! It is the development of these two characters and the surrounding supporting characters that helps the author to create the perfect formula…a hilarious, sensual, erotic romance…
Plain and Simple…This S#IT is FUNNY…
Enough Said…
–Meika
Another hit … I am in love with "The Neighbor from hell" series by this author … these books are fun and easy to read but they also have a great story and characters that you will fall in love with.
I felt like I could relate to Zoe, I'm a little on the heavier side, or big boned as I like to call it and at times I feel plain, but my husband can make me feel like the most beautiful woman alive, just like Trevor does for Zoe. I love how their relationship developed, and I love the way it started I always love a friends with benefits turned lovers story.
Again I couldn't download the next book quick enough … I find that I can sit down and devour these books rather quickly and they are the perfect feel good read!!
–Kelly
For a moment she didn't say anything as he pressed kisses along her jaw and throat. He slowly guided her onto her back as he gently caressed her stomach and pressed one last kiss against her lips before he pulled back.
            She looked so damn embarrassed and defeated that he couldn't stop himself from brushing his lips against hers one last time. "You're beautiful, Zoe," he said, realizing at that moment just how beautiful she really was. From her beautiful soft brown hair to her stubborn little chin she was beautiful.
            "No, I'm not," she said with a snort and an eye roll as she averted her eyes.
            His eyes narrowed dangerously on her. "Are you calling me a liar?"
            "More like delusional," she said with a snort.
            "How dare you question my taste, woman?" he demanded. "If I say you're beautiful then you're beautiful so get the hell over it!" he snapped.
            "Look, I appreciate the compliment, but-"
            "Out," he said, dropping onto his back and folding his arms over his chest as he stubbornly looked away from her.
            "But-"
            "I said out, woman!"
            "This is my apartment," Zoe pointed out, sounding close to laughing.
            "Then you know where the door is. Now get out, woman, and don't you dare come back until you're ready to apologize to me," he said, waving a dismissive hand in the direction of the door.
            "Apologize to you? For what?" she asked, sitting up to kneel beside him.
            "For what?" he repeated, stunned. "I call you beautiful and you dare to doubt my word? For that you may get your beautiful ass out of my sight."
            "Uh huh," she said, drawing out the words. "Did you by any chance eat this morning?"
            "That has nothing to do with it," he said, sniffing in disdain.
            "Oh, I think it does."
            "Does not."
            "Do you want me to go grab you some cereal or something?" she offered.
            "Not unless it comes with an apology and groveling."
            "Groveling?" she repeated slowly. "Since when is there groveling involved?"
            "Since you doubted my word and only offered to make it up to me with cereal. How dare you add insult to injury?" he snapped as he once again gestured for her to leave.
            "Don't you think you're overreacting just a little bit here?" she asked, and he could hear the smile in her voice. It pleased him that she was no longer upset, but he was still insulted.
            "No, now leave me be, woman," he said, turning his head even more away from her. "I'm no longer speaking with you."
            "Fine," she said, sighing heavily as she climbed off the bed, not apologizing or groveling, he noted.
            Would it really kill her to accept his expertise on the matter? He said she was beautiful then she should really just shut the hell up and accept that he knew best, but the woman was just too damn stubborn and until she accepted that he was right about this, he wasn't going to-
            "You know it's too bad that you're not talking to me. I was going to surprise you today. There's this new buffet restaurant opening a few towns over that I was going to–eeep!" she squealed adorably when she suddenly found herself back on the bed and pinned beneath him, his mouth smothering hers.
            "I accept your apology."
New York Times Bestselling author, R.L. Mathewson was born in Massachusetts. She's known for her humor, quick wit and ability to write relatable characters. She currently has several paranormal and contemporary romance series published including the Neighbor from Hell series.
Growing up, R.L. Mathewson was a painfully shy bookworm. After high school, she attended college, worked as a bellhop, fast food cook, and a museum worker until she decided to take an EMT course. Working as an EMT helped her get over her shyness as well as left her with some fond memories and some rather disturbing ones that from time to time show up in one of her books.
Today, R.L. Mathewson is the single mother of two children that keep her on her toes. She has a bit of a romance novel addiction as well as a major hot chocolate addiction and on a perfect day, she combines the two.
In 2019/2020, R.L. Mathewson will be publishing Devastated, the first Anger Management novel, Tall, Dark & Furious, the 6th installment to the Pyte/Sentinel series, Irresistible, the long anticipated novel for the Neighbor from Hell Series as well as many more books throughout the year, paranormals, contemporaries, and YAs.