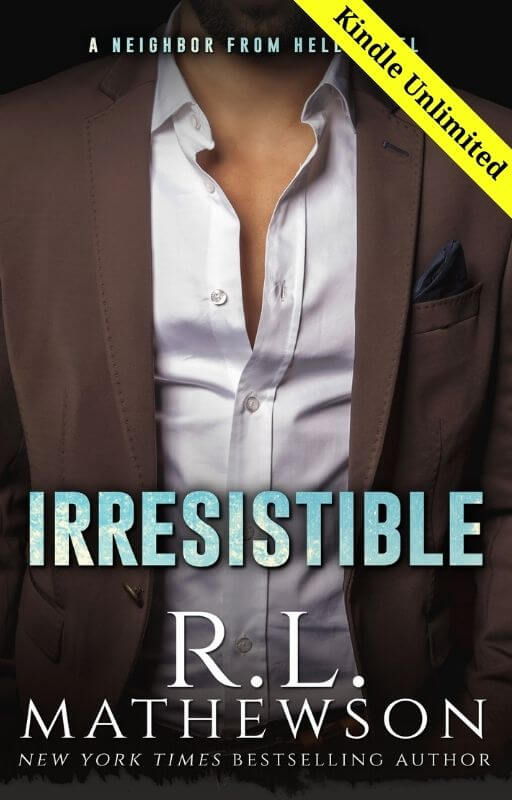 Aidan Bradford never wanted a family, but after having a one-night stand with the woman that he hadn't been able to resist, he's going to find himself getting exactly what he needed in this romantic comedy from New York Times bestselling author R.L. Mathewson.
There weren't many things that Aidan regretted, but that night he'd spent with the woman that he couldn't stop thinking about was definitely one of them. He'd always been careful, always did the right thing, and now…
Now, he had to figure out a way to fix this before it was too late.
Melanie still couldn't figure out how one night could change the rest of her life. She should have done a lot of things differently that night. She should have turned him down, should have spent the rest of the night wallowing in self-pity like she'd planned, but that's not what happened and now, she needed to figure out how she was going to survive this pregnancy with a Bradford doing everything in his power to make her fall in love with him.
Reviews for Irresistible
The very sexy R. L. Mathewson has done it again! I love the Bradford family and this one is no different. Aidan and Melanie and the fallout after their one night stand ensures hilarity, friendship, sexy time with a kidnapping thrown in. But the secondary characters add that extra specialness especially brother Lucifer and mother Mary's interactions. The Labour scene is hands down the funniest one I've read, Melanie is a gossip fiend and even Labour has her trying to garner family drama. Such a great book. Can't wait for who's next…….. Devin!!
–Laura Rose
It seems like I've been waiting forever for this book. Totally worth it! Aiden has no idea what's about to happen. I loved watching him come to terms with everything and then realizing what he really wants. He was such a jerk in the beginning of this book and that kind of threw me since he seems like such a sweetheart in all the other books. I'm so glad that that isn't the real Aiden. I think the ending is epic!!! From never wanting kids to wanting a houseful. Love it. Another great book in this series
–Cindy
R.L. Matheson is by far my favorite author. I have been waiting for Aiden 's story for what feels like forever. She did not disappoint with Melanie and Aiden 's story. The dialogue between the two of them had me cracking up, add that to the 5 things game they played and I couldn't stop smiling and laugh out loud. I think this might be one of my favorites because Aiden was not the typical Bradford ( cocky, confident and a big baby lol) he was actually shy and unsure of himself, but such a amazing person and so incredibly humble. I can't wait for the next book!
–Amber
I have no idea how I stumbled across R.L. Mathewson but I am so glad I did. It's been years since I first read her books and to this day, I faithfully pre-order my copy of her newest book.
This book started very differently from the others, but it was well written (no surprise there) and of course, had me snort laughing. I enjoyed following Aidan and Melanie's story. I love that R.L. always writes little updates on all my favorite Bradfords. She perfectly ties in all the stories and keeps you on your toes through out. Consider me a fan for life!
–Alina
a·maz·ing Definition of amazing: causing astonishment, great wonder, or surprise. Yes! This describes this book perfectly!
Aidan and Melanie's book. So worth the wait! Mathewson had started the sexual tension between the two for a while. Now we finally have the story!
Yep. This is the shortest review I have ever done. I don't want to give away any spoilers and I know I will if I continue.
Thank you, RL Mathewson, for this awesome story and the family tree so we can remember who belongs to who.
–Pitapam
Oh, how I've waited for this book. R.L. Mathewson is a huge tease that likes to give you snippets of her next book.
Aiden doesn't want kids, a wife or anything that's going to change his life. With one night with Melanie and it changes everything. These two are perfect for each other and I'm so glad she gives him just as much as he dishes. You get a to see a side of Aiden that's not always so straight and serious.
–RMEDEIROS
I love the Bradfords. Every time I think that R. L. Can't come up with another original story about a couple in the series, I am delightfully surprised! Every story is unique, every couple is lovable, and I can't wait for many more years of this adorable family! I have been waiting for Melanie and Aiden ever since Lucifer and Rebecca story, which has been years. I am thrilled to say that she has not disappointed!
–Bronwen
I have been so excited for this story. I read it in one evening. I love R.L. Mathewson's NFH series since the very beginning. You could say I'm addicted to her writing. Her character's have such great sarcasm and wit. They love messing with each other and I just smile as a read along to their banter. I'm sure my hubby thinks I'm mental, smiling and snickering into my kindle, but it's a bookstore thing.
–J.C.
I try so hard to read slowly and savor the goodness of her books. But again, i have failed. R.L. Mathewson spins a comical yarn of life in the Bradford family. They are perfect in their imperfections. Aiden and Melanie's story is no different. Well, except there's pie. R.L, your sexiness shines through my friend, my author.
–Laura7342
I been reading this series since the very FIRST book and I HAVE NEVER AND I DO MEAN NEVER been DISAPPOINTED!!!!!!!!!!! I love the fresh look on each and every book! I can't wait for the next installment!
–Shamayne Brown-Williams
"Well?" the man that had somehow charmed her into taking a bath with him with weird and somewhat disturbing trivia asked as he wrapped his arms around her and placed his hands on her belly.
"Well, what?" she murmured, somewhat distracted by just how incredibly comfortable she was.
After spending the last few months struggling to get comfortable, she was in heaven. It only confirmed her earlier suspicions that she was a snuggle slut, but at the moment, she simply didn't care. She never wanted to leave this tub, she thought with a sigh as she shifted to get more comfortable, murmuring a, "Thank you," when Aidan adjusted her tee shirt to keep her covered.
"Your five things," he said, as she leaned back more, resting her arms on his boxer short clad thighs.
"And why exactly are we sharing five things, might I ask?" she asked, unable to help but smile as she watched Aidan absently trace circles on her belly over where their baby boy was moving.
"We're getting to know each other."
"And we're doing that by sharing five completely random things?" she couldn't help but ask as she laid her head against his chest.
"Mmmhmm, I thought it would be for the best if went with the accelerated version," he murmured, chuckling when their son kicked his hand.
"I see," she murmured, her lips twitching with amusement as she asked, "Then shouldn't sharing a bath be considered part of this accelerated program?"
He sighed heavily. "I'm starting to think that you don't want to share any deep dark secrets with me."
"And what would these deep dark secrets consist of?"
"The usual, your favorite color, favorite ice cream, your most mortifying secret so that I can blackmail you with it at a later. The usual," he said, making her smile.
"I don't know. Telling you what my favorite ice cream might be going too far."
"But, you're okay with sharing your most mortifying secrets?"
"Oh, absolutely."
"Sounds reasonable."
"That's what I thought," she said, nodding solemnly.
"What's the first item on your list?" he asked, shifting so that he could gently rub his hands over her belly.
"I don't know if you'll be to handle my deep dark secrets. They might scar you for life."
"I'm willing to take that risk," he said, chuckling.
"As long as you know the risks," she said, sighing for effect before admitting, "I believed in Santa Claus until I was fourteen."
"I see," he murmured thoughtfully before asking, "And how did you manage to pull that off?"
"Denial," she admitted.
"And the Easter Bunny?" he asked.
"I think it would be for the best if we moved onto my second completely random thing," she said.
"You're probably right."
New York Times Bestselling author, R.L. Mathewson was born in Massachusetts. She's known for her humor, quick wit and ability to write relatable characters. She currently has several paranormal and contemporary romance series published including the Neighbor from Hell series.
Growing up, R.L. Mathewson was a painfully shy bookworm. After high school, she attended college, worked as a bellhop, fast food cook, and a museum worker until she decided to take an EMT course. Working as an EMT helped her get over her shyness as well as left her with some fond memories and some rather disturbing ones that from time to time show up in one of her books.
Today, R.L. Mathewson is the single mother of two children that keep her on her toes. She has a bit of a romance novel addiction as well as a major hot chocolate addiction and on a perfect day, she combines the two.
In 2019/2020, R.L. Mathewson will be publishing Devastated, the first Anger Management novel, Tall, Dark & Furious, the 6th installment to the Pyte/Sentinel series, Irresistible, the long anticipated novel for the Neighbor from Hell Series as well as many more books throughout the year, paranormals, contemporaries, and YAs.