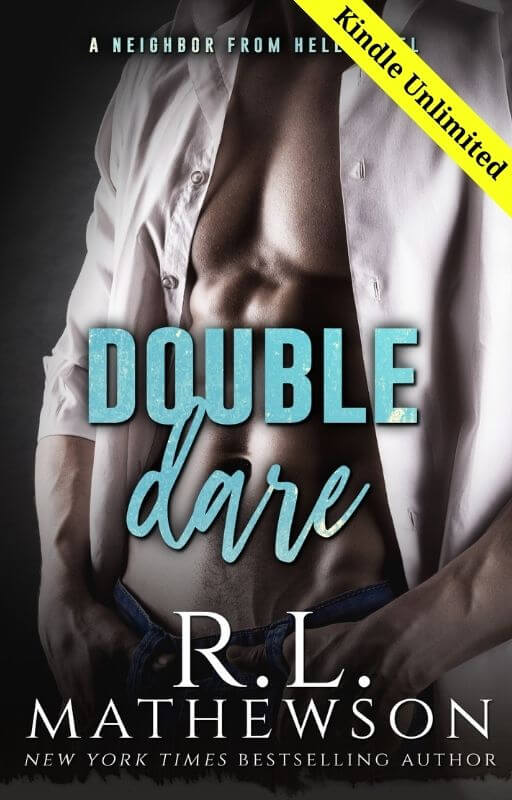 Darrin Bradford was done waiting for the woman that he'd been in love with his entire life to make a decision and has decided to take matters into his own hands in this romantic comedy from New York Times bestselling author R.L. Mathewson.
For twenty years, Darrin Bradford has been waiting for the right moment to make his move and now that Marybeth was finally his, he planned on keeping her. There was only one problem with this plan, the stubborn woman that he loved more than anything in this world was keeping something from him and until he figured out what that something was, she would never really be his.
Marybeth made a mistake, one that they were both paying for, but even knowing that this wasn't going to end well wasn't enough to make her do the right thing and walk away. She loved him, always had, always would, but she needed to do the right thing before it was too late.
Reviews for Double Dare
She did it again! I love this woman and how she writes. I was at the dentist and multi tasking trying to read while they did their thing and it probably wasn't the best idea because I would end up laughing at the wrong moments. I loved the characters and it was definitely different with them growing up with each other then being introduced. I know she did the same situation in Rory's book so while it wasn't a first it was still refreshing. Marybeth's health issues really hit home as its something I've seen lots of people close to me deal with and I just felt for her but when Zoe and Trevor stepped up in the epilogue I just ended up loving them even more. Darrin was amazing throughout the whole book and although he isn't my absolute favorite in this series his character is still one to cherish in my opinion. He was perfect (again my opinion) and how he handled some situations truly prove that some men just are that- characters in a book because its sure as hell a hard thing to find nowadays (hello jaded?)
Now I'm upset because we will now have to wait another year or so for the next to come out which makes me want to hate her but since I read the other series as well I guess I can deal (only because I really have NO other choice in the matter)
–Sarah Shannon
The Neighbor From Hell series is one my favorite series of all time! I hope that Mathewson never stops writing about the Bradford family. I am so sad that we have to wait until 2016 for the next book.
I am not going to go into a lot of detail about this book. If you are a fan then you didn't even read the blurb before buying the book. If you have not read any of the Neighbors From Hell series, what are you waiting for???? Start with the first book and work your way up to this one. I know these books are stated as a standalone, but really to understand everything going on behind the scenes you really should read the entire series.
Darrin and Marybeth. Friends from the time they were 7 years old. Watch them grow up together and find out that they belong together. Of course there are other Bradford family members make appearances and Darrin has not escaped the Bradford curse like his other relatives.
Story line, great. Writing, awesome. Sex scenes, melt your panties good. Would I recommend this book to a friend, OMG YES!!!
–Pitapam
Overall, I'm becoming a huge fan of R.L. Mathewson's works. If you've read any of her previous "Neighbor from Hell" books, then this is another must for your reading pleasure.
What's a little unique in this story from her others is that the two main characters are best-friends that have known each other forever. The character development is well thought out and brings you up to speed very quickly. The main characters, Darren and Mary Beth, are in a friends-with-benefits situation where both their relationship to be more but Mary Beth has a secret that she doesn't want to share. Her secret makes her feel unworthy of Darren so refuses to let their relationship to go beyond where they currently find themselves. It's an interesting twist in the story that has some sweet moments as well as sadness. Darren and Mary Beth's witty and combative relationship makes for a fun and enjoyable read. You definitely won't be disappointed.
–Leozpride
I Love the Bradfords and Darrin Bradford was no exception. NFH is one of my favorite series and R.L. did not disappoint with Double Dare. Marybeth has an advantage when it comes to Bradford antics, having grown up around them she know when she's being played by one. I love the game of double dare Darrin and Marybeth have going on, always trying to out do the others dare makes for a few good laughs not that your ever lacking in laughs when it comes to the Bradford men between the addiction to food and the fact they are all so full of themselves knowing what a catch they are god I love them. I cant wait for Reese's story as well as all the other Bradford men I just cant get enough 🙂
–Delia Chavez
Fantastic!!!! I love this series….call me a RL Mathewson stalker if you want but there is nothing that she has written that I haven't loved. This book was a bit different in the direction that it went, more serious topic between the H and h but still the goofy laugh out loud moments that we expect from the Bradfords kept me rolling from the beginning to the end. I cannot recommend this series and this book enough- it is a great escape and an epic relaxing read….RL if you read these comment – please know that I am a huge fan and look forward to your next book 🙂
–Kindle Customer
What can I say about this book? I was dying! There was one part where Darrin is with Reese and they are on their way to Disney. They have a conversation with their mom and I just couldn't stop laughing, oh my back and abs got a great work out but it was a great book!
Another amazing book my R.L.!
Darrin and Marybeth's story is hilarious! She pretty much was raised by the Bradfords. It's a little sad but I love these Bradford men, they know how to lighten the mood with their antics.
Reading the whole series again because I need a good laugh! Best series ever!!!!
–Lwhite530
I laughed my ass off but then again it is written by the one and only RL MATHEWSON I can always count on a good laugh with her books and whenever im feeling down I turn to them and they never disappoint. This book wasn't any different in that aspect i loved it!! what's different about it though is that the couple we read about are already together and we watch them as they figure things out and it's just as amazing as watching them fall in love. this is DFNTLY a 5 star read for me I loved it. I'm buying it in paperback to put on my fav shelf!!
–Rimal
This book was great! It's just as fun, funny, sweet and sexy as the rest of the series. I really LOVED Darrin. He was super sexy and charming and hilarious. The Bradford men never disappoint with making my face hurt from smiling and laughing too much.
I felt bad for Marybeth and everything she was going through from such a young age. And I understand why she was trying to stay away from Darrin but it all worked out in the end.
I hate that I have to wait so long for the next book because I am obsessed. I highly recommend this series!
–Antonette Santillo
I've read all the NFH books, and each time I say "I think this ones my favorite!" But the truth is, they're all great, and I could never pick just one.
I love Darrin and Marybeth and their relationship, the good, the bad and the ugly! My heart broke for both of them as they went through the struggle of planning how to overcome their obstacles. I love the double dare relationship they've had together since they were young, made their relationship truly special!
Can't wait to the next book! Bring on Reese's story!!
–Meaghan
I love everything this woman writes. This is the latest installment of the NFH series. It was different from the other books, but as with any series it needs to evolve and change or it becomes too repetitive. I love that you get all the backstory about how Marybeth and Darrin met, and the double dare's started. If you are looking for something that is both emotional, and funny as hell, this is the series for you.
–Kindle Customer
"Wow, I'm stuffed. How about you?" she asked, knowing that it probably was a bad idea to keep taunting him, but she really just couldn't help herself.
            There really was something about getting back at the bastard that gave her such pleasure, she decided as she made a big show of scooping up another bite of chocolate cream pie and bringing it halfway to her mouth only to set it back down on her plate with a sad shake of her head and a little sigh.
            "You're going to pay for this," Darrin practically snarled as he stabbed his fork in what had to be his thirtieth helping of lettuce. Keeping his glare locked on her, he shoved the forkful of wilted lettuce in his mouth and chewed.
            "How's that lettuce working out for you?"
            He paused mid-chew as his eyes narrowed on her and she knew, just knew, that he was imagining all the violent things that he'd like to do to her. So, of course she picked up her phone and snapped another picture.
            "Hmm, that was a good one," she mumbled, noting how the phone was able to pick up the murderous gleam in his eyes.
            Ah, memories…
            "You're going to pay for this," he repeated, practically shaking with rage.
            She considered pointing out that she'd graciously allowed him to have a delicious glass of tap water with his meal, but decided against it since something in his expression told her that it was probably a bad idea. Actually, now that she thought about it, it would probably be for the best if she left now since the restaurant was closing in an hour. It would give her enough time to run back to the hotel, switch her room and buy some supplies just in case she was forced to lay low for a few days.
            With that in mind, she stood up, noting the way that he watched her every move, and grabbed her bag. "Well, it's been fun, but I'm afraid that I have to be going now."
            "Marybeth," he snarled in warning.
            If only she knew when to stop when she was ahead, she thought, shaking her head sadly as she looked over to Danny's table to find it empty. She glanced around the busy restaurant until she spotted him with his girlfriend at the far end of the buffet, waiting in line at the meat carving station.
            She really shouldn't do this, mostly because it was probably going to get her killed, but…
            She really couldn't help herself.
            After watching Danny for a few more seconds to make sure that he wasn't going to turn around, she shifted her attention back to the man that she loved to torment. There was just something so wrong with enjoying playing with fire, and she was definitely playing with fire, she thought as she threaded her fingers through his hair, leaned down and did the one thing that she'd missed the most over the past month.
            She kissed him.
New York Times Bestselling author, R.L. Mathewson was born in Massachusetts. She's known for her humor, quick wit and ability to write relatable characters. She currently has several paranormal and contemporary romance series published including the Neighbor from Hell series.
Growing up, R.L. Mathewson was a painfully shy bookworm. After high school, she attended college, worked as a bellhop, fast food cook, and a museum worker until she decided to take an EMT course. Working as an EMT helped her get over her shyness as well as left her with some fond memories and some rather disturbing ones that from time to time show up in one of her books.
Today, R.L. Mathewson is the single mother of two children that keep her on her toes. She has a bit of a romance novel addiction as well as a major hot chocolate addiction and on a perfect day, she combines the two.
In 2019/2020, R.L. Mathewson will be publishing Devastated, the first Anger Management novel, Tall, Dark & Furious, the 6th installment to the Pyte/Sentinel series, Irresistible, the long anticipated novel for the Neighbor from Hell Series as well as many more books throughout the year, paranormals, contemporaries, and YAs.