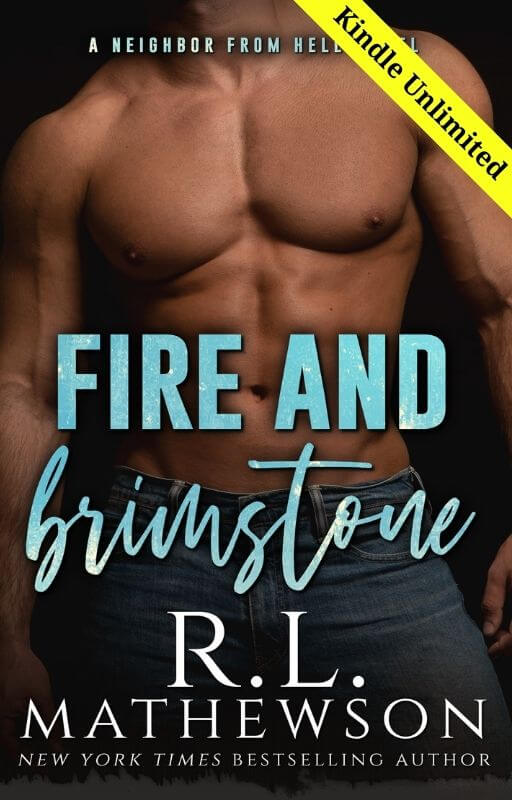 Lucifer Bradford has finally met his match in the small woman who enjoys making his life a living hell in this romantic comedy from New York Times bestselling author R.L. Mathewson.
What happens when a Bradford with questionable OCD and a reputation for making his employees cry falls for the woman that refuses to accept the fact that he's fired her?
Lucifer still wasn't sure how she was doing it, but every single day without fail, Rebecca found a new way to drive him out of his damn mind. When he finally manages to do the one thing that he's been dreaming about doing for years, she takes him by surprise and makes him realize that there was more to the woman that loved to drive him crazy than he thought.
He needed her.
Not that he would admit it, but Rebecca wasn't going to let that stop her, which was why she just couldn't let him fire her because, without her, he'd be lost.
It was for his own good.
It really was.
At least, that's what Rebecca tells herself. It was probably wrong to torment the man that signed her paychecks, but she just couldn't help herself. There was just something about the incredibly handsome man that loved to glare that made her want to see just how far she could push him.
Reviews for Fire & Brimstone
If you like a good laugh, and a lot of real friendship banter, mixed in with an adorable big dog. This is the love story for you. You will fall in love with every character. It has a great romance with the true Bradford humor. Lucifer's is unlike any other Bradford, he is a tad bit OCD. Add to that a realist view of Rebecca, who is out going and seems at bit like a Bradford herself. Who finally finds out what her health problem is. Something that she has been struggling with all her life. It was nice that the author could bring humor to something she has struggle with and has first hand experience with too. Rebecca and her best friend really made this book very special to me. I just loved it. Also visiting and catching up with the other Bradford's it just makes you feel like coming home to great family and friends. I would HIGLY Recommend this latest addition to our Bradford Men collection. You will not be forgetting Lucifer Bradford any time soon.
–Denise
Lucifer Bradford wants to fire his annoying waitress. He has hidden her mysterious clipboard that he thinks may have magical powers, he is ready to fire her. Rebecca though doesn't seem to listen, he has had fired her multiple times and she is still there. When she finally says okay, he knows something is wrong. Lucifer doesn't want to care about the menace, but he kind of does.
Rebecca has been dealing with an elusive illness her whole life and she can't take it anymore. She is hurting but everyone thinks she is a hypochondriac, as if. When Lucifer helps her, she finds herself falling for the unshakable man who carries her around, tries to tell her what to do, which she doesn't. Lucifer is falling as well, but now he has to get Rebecca to fall for him as well. She is his perfect match and scary in some ways, even worse than a Bradford.
Extremely delicious fun. Loved this couple, Lucifer is a hoot and Rebecca is devious. One of my favorite series of all time. Couldn't put it down.
–Emily
Watching as Lucifer and Rebecca grow in their relationship is fascinating as well as hilarious. I laughed my butt off and cringed at times as I realized just how devious Rebecca could be. I love how we get a look at the real Lucifer and how his mind works at times. I couldn't put this book down till I was finished. It's at the top as one of my favorite books. R L Mathewson is a genius with words!!!! I can't wait for the next book! I can't wait to hear more of Aidan's story!!! Again, you're an absolutely amazing writer and genius RL. If you haven't read RL Mathewson's books before, I highly recommend that you read her books. Once you start you won't be able to stop till you've read all of her books!!!!
–Kim Clark
From the beginning I fell in love with these characters not just the main, but seriously all of them including the lazy dog. Loved, loved , loved Rebecca! She's strong, cocky, funny, and a slight touch evil, but a Bradford evil. This book was fun and entertaining and made me laugh a lot and if I wasn't laughing I sure had a smile on my face. Now Lucifer was perfect not one bad thing I could say about him, however Rebecca had run off with the show. She is now my muse. I want to be her when I grow up. If you want to sit down and be entertained and walk away with a smile on your face then this is the book for you.
Slam dunk Ms. Mathewson.
–MichelleH
The relationship between Rebecca and Lucifer is one of romance and humor but honestly the relationship between Rebecca and Melanie, her best friend, was so deliously funny I laughed out loud almost on every page. Loved the sisterhood these two women had and the witty, wonderful love story between Lucifer and Rebecca. You are missing out if you don't read this book. It by R.L. Mathewson…enough said!!
–Kindle Customer Sheryl
I purchased this book by mistake. But what a find! I laughed out loud so many times! I would rather tell you I enjoyed this book immensely than deliver a short synapse, you can read what is posted to find that out, you don't need my words. I will however say if you need a good laugh, want the romance, and like your hero to be a bit on the gruff/domineering side, then purchase, sit back…. enjoy your read. You will not be disappointed. The characters are well built, our hero and heroine have got all the right traits that are not overdone, and supporting characters you are cheering on as well. All in all …. a great find.
–Amazon Customer
I love the Bradfords. I love every Neighbor from Hell book I had read and recommend these books to anyone wanting a good comedy romance. That said I really loved Lucifer and Rebecca. He is such a Bradford, but I really felt that she was such a Bradford too. I loved their dynamic and the way she fit in so well with the Bradford clan. I loved seeing Trevor and Jason in the story. Would have like some more cameos. Or maybe a BBQ where we get a glimpse of all of the previous couples. Hint, hint. I can't wait for Aidens life to get flipped! More, I demand more Bradfords!!!
–Desiree
L. Mathewson has never disappointed me. I await every release of the Neighbor from Hell series with baited breath and buy the book to read no matter when it comes out or what book I am reading at the time. I put all other books on hold until I've read her's all the way through. Her books have never failed to keep me entertained and laughing at the outrageous actions and words of the characters. Some may say that there is no way people would really act like this, but even Mathewson has mentioned that these books are a way to break from reality and just enjoy the banter.
–Destinee
What more can you say about this series?
You get to laugh out loud while everyone in the room stares at you as if you lost your mind…
You get to fall in love and wish that you were lucky enough to find a man like any of the Bradfords or James..
You get to wish you were part of a family like that, where everyone accepted you as you are and torture while you torture them on a daily basis and still count on then…
Love this series now and forever
–Bookworm
I've said it before and I will say it again, I love all R.L. Mathewson, even though she's holding up the goodies and slowly publishing!!! I love to laugh and specially when I'm stress out, her books provide me that outlet and for that I am really thankful. Lucifer and Rebecca were perfect for me, you have you're moody hero and you're naughty heroine making his life a living nightmare but giving him the comfort and acceptance he needs. Love to be able to get up to speed with my Bradford's favorites and I cant wait for Aiden's book either so move it R.L.!!!
–Chrissaimy
"My ass," Rebecca whispered hoarsely as she lay there on her stomach, her bottom lip trembling ever so slightly while he stood there, glaring down at her. "My poor abused ass."
His eyes narrowed dangerously on the little brat.
The disapproving sigh that came from his right had him seriously considering smothering her with a pillow. "What part of no physical activity for a week did you not understand?" his father asked as they stood there, watching the little fake milk this thing for all it was worth mostly to fuck him over.
Why couldn't he fall for a normal woman? he wondered when she added a little sniffle into the act.
"He doesn't listen," Aidan, the asshole that was supposed to come alone, added with a sigh matching their father's.
"Was waiting a week really asking too much?" his father asked, shaking his head in disgust.
"No one told me that she wasn't supposed to do anything for a week," he bit out, because if he had known that he would have resigned himself to cold showers and inappropriate thoughts.
"I wanted to wait for marriage," the little demon whispered.
"I know you did, sweetheart," his father said, nodding in agreement, but Lucifer didn't miss the way his old man's lips twitched with amusement as he betrayed him.
"He always was a selfish bastard," Aidan added.
"Can we get anything for you?" his father asked as he sat down on the edge of the bed, careful not to jostle her.
A sniffle. "A Coke, please? I'm ever so thirsty."
"You poor thing," his father said and he knew that his father was going along with this just to fuck with him.
"Thank you," the little traitor murmured softly as she shot him a shy look that honestly scared the living shit out of him, because she was a little too good at this.
"You are so fucked," his brother whispered next to him and he could only nod in agreement.
"I'll get you that drink, sweetheart. You just lay there and take it easy," his father said with a reassuring smile as he stood back up and headed for the door, pausing long enough to shoot him a glare. "Do you think that you can keep your hands to yourself for that long?"
"I didn't know!" he snapped, wondering how he'd ended up in such a fucked up family.
"I just wanted him to like me," she murmured as she lay there, looking completely innocent.
"So. Fucking. Screwed," his brother said, deciding that enunciating every word was fucking helpful.
It wasn't.
© Rerum Industries, Inc. 2016. All Rights Reserved.
New York Times Bestselling author, R.L. Mathewson was born in Massachusetts. She's known for her humor, quick wit and ability to write relatable characters. She currently has several paranormal and contemporary romance series published including the Neighbor from Hell series.
Growing up, R.L. Mathewson was a painfully shy bookworm. After high school, she attended college, worked as a bellhop, fast food cook, and a museum worker until she decided to take an EMT course. Working as an EMT helped her get over her shyness as well as left her with some fond memories and some rather disturbing ones that from time to time show up in one of her books.
Today, R.L. Mathewson is the single mother of two children that keep her on her toes. She has a bit of a romance novel addiction as well as a major hot chocolate addiction and on a perfect day, she combines the two.
In 2019/2020, R.L. Mathewson will be publishing Devastated, the first Anger Management novel, Tall, Dark & Furious, the 6th installment to the Pyte/Sentinel series, Irresistible, the long anticipated novel for the Neighbor from Hell Series as well as many more books throughout the year, paranormals, contemporaries, and YAs.