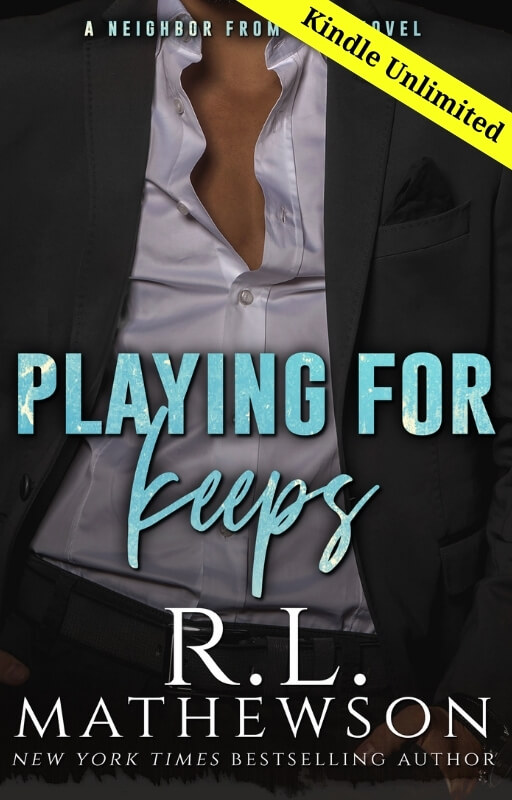 Kindle Unlimited
$2.99
Jason Bradford is about to do the one thing that he swore that he would never do, he's about to fall in love in this romantic comedy from New York Times bestselling author R.L. Mathewson.
Haley Blaine was done with being the world's biggest pushover and it was all thanks to the incredibly handsome man living next-door determined to make her life a living hell. After he'd finally pushed her too far, Haley decided to take matters into her own hands, and now…
She was terrified of falling for the one man that was guaranteed to break her heart.
The last thing that Jason expected was for his incredibly shy neighbor to lose her goddamn mind and attack him with a hose, but now that she had, he couldn't help but notice just how well she fit into his life. He liked having her around, loved the way that she felt in his arms and-
He was about to lose his goddamn mind.
She could do so much better than him…
Which meant that it was time to show her that this was anything but a game before it was too late.
Welcome to the Neighbor from Hell series.
Reviews for Playing for Keeps
So far I have read this book 3 or 4 times. I love the ridiculousness the cuteness the hilariousness of these characters. This story was well written with a charm that brings me back to read it again and again.
Jason and Haley are the first couple of this series and you will see them here or there in the following books in this series.
I bought the Audible which is excellent and adds to the story. There are sexy scenes, funny scenes and a HEA. Enjoy!
-Mommarachel
I have read every one of these books & I laugh through most of each book. I LOVE THIS SERIES. I am waiting for the next one to come out next month. I can't wait for it to purchase it.
-PAM
I originally read this book back in 2012 or 2013. Honestly, I devoured all I could from the author after that and I still clearly recall this book.
Have been listening to it on Audible and rereading it when not listening this week because I seriously LOVE this story. It's hilarious, spicy, and heartwarming when everything works out in the end.
I seriously have had this bookiverse in the back of my mind for years. It is so worthy of the revisit.
-BookBoleyn
I LOLed so many times my husband wants to have me committed! I love the characters and find them relatable and at the same time so amazingly original! Can't get enough of it and read it in 2 days might need to take a lesson from the book when dealing with a husband who can be a huge pain in the butt and won't listen when he's in head. 😉
-Sarah Padgett
Hands down, one of THE best books I've read this year. I haven't laughed so hard while reading a book in a while. This book was nothing short of amazing.
I don't even know where to start. Maybe with the fact I've never read anything from this author before. Why? Possibly because I'm brain damaged or something. There's really no other reason for me to not have read this series.
The characters were fabulous. I LOVED Jason. He was such a jackass and such a damn turd but you can't help but love his antics and in turn, him. Poor Haley. I felt so badly for her. I just wanted to go kick Jason's ass for her. I want to go into everything that happened within these pages so that you can see why it was so awesome but I can't. I can't steal that first-read-magic from you. I'll just say this … Jason meant to make Haley's life hell and Haley figured that ignoring the issue would make it go away. It reminded me of elementary school. Every girl had that one dude in class who would not leave us the hell alone and we would try everything within our powers to get him to stop because we just didn't understand why it was happening. Boys seem to like to irritate and tease the ones that they like … that's all I'll say.
The sparks were just flying between these two characters on every single page. It was a great thing to experience because it made for such a light-hearted and fun read. Unfortunately, I was an idiot and blew through this book entirely too quickly. That's easy to do when the plot seems to be written so effortlessly and the characters are so captivating.
Here's the deal, if you like romantic novels that are sweet and funny and you like plots that move along at an exciting pace or if you just like a good book, this is the one for you. I'm a big fan of this author and I can't wait to read more books in the series. Absolutely marvelous.
-Julie
When Haley catches her obnoxious neighbor and fellow teacher, Jason, ripping out her tulips, it's the last straw after quietly tolerating him the last five years. Chased into her house by a swarm of bees, the close proximity forces their first real conversation where each realizes they share a love of sports and sarcasm.
Jason and Haley quickly bury their feud and a beautiful entertaining friendship ensues as Jason's many quirky habits are revealed, one being his obsession with eating everything in sight. He's determined to make Haley his protégé, calling her his little grasshopper (Karate Kid), so she quits dating losers and players like him. His childish, spoiled Mama's boy antics grow on Haley as she sees what a thoughtful, tender person he is beneath. It's absolutely adorable watching the transformation of their relationship and there's many laugh out loud moments finally ending in several chapters of hot nights.
Thanks to for this great recommendation. I can't wait to read more of this Neighbor From Hell series.
-DreaDamara
Every time I read this series, I am laughing!! I love the love stories, but the characters are hilarious!! I have them all and wish there were more. I have read them numerous times. Thank you for the wonderful reads!!
-Demetrice Watts
OMG!!! I don't think 5 stars are good enough for this book! I had such a good time reading this one I actually bought the remaining books in the series as soon as I finished the sneak peek for the second one. No joke. It's that good.
I loved how Haley started out as such a quiet, introverted woman but because of Jason, she was able to emerge from her shell and show the world what an outspoken woman she was on the inside. It was amazing to watch her transformation. It also helped LOADS that she's a Yankee fan like me (lol)
Jason was hilarious too. He was the absolute WORST neighbor! He was the total opposite of Haley, but then again opposites do attract. It also helped that he's also a Yankee fan (how awesome is that!) I loved the fact that him being around Haley so much made him change his womanizing ways and turned him in to the perfect book boyfriend (even though he had me rolling my eyes throughout the book). He makes me wish I could meet someone like him… Minus the awful neighbor part anyway. (lol)
It was so easy to become immersed in the story. It was like being a fly on the wall… I felt so deeply for both Haley and Jason. I hope the rest of the series is just as good (or better than) this one, and from that little sneak peek of book 2, I feel like they will be.
HIGHLY RECOMMEND THIS ONE!! I guarantee you won't regret it!
-Skbgirl
This book had me laughing out loud on so many different occasions. What more can I say…it's totally hilarious. Jason starts out as the neighbor from hell, but he soon wins his little grasshopper over, with his quick wit and quirky little smiles. The chemistry between these two seemed so real and not forced like in so many other stories I've read in the past. And the grandmother cracked me up too, probably because I had a grandmother just like her myself, so she was easy to relate to..
The whole story just seemed to flow so easily. And what I liked the best of all…is that all the characters were so believable too. Jason has his friends, one is happily married, while the other one is nothing but a man whore. And let me tell you- his whole family is a total hoot too. Haley has her friends too, but they are just a bunch of snobs just like her whole family, well except for her grandmother that is. I fell in love with her right off the bat when she left that snobby family of theirs, and went back to Haley's house to have a real down home backyard B.B.Q.. Needless to say from then on, she kept me laughing throughout the whole story.
If you're looking for a light comedy read with a little romance thrown in, then this is a book for you.
Would I recommend this book? Yes, most definitely. I was so impressed by this book, I'm off to see what else this author has written.
-CINDY F.
Haley and Jason's story is fantastic! It's a sweet enemy to lover story with enough snark to keep you entertained. I highly recommend this book if you love HEA stories!
-Bonnie's mom
"I had a really nice time," Jonathan said, probably for the tenth time.
Haley forced herself to smile and, of course, lie. "I did, too," she said, hoping he wouldn't ask her to elaborate because she would be hard-pressed to find something nice to say about this evening, except that it was finally ending.
This was definitely the last time that she went on a date with anyone that Mary, one of her oldest and dearest friends, suggested. After Mary set her up with the taxidermist, who liked to carry his projects with him, she should have learned her lesson, but instead, here she was.
The date didn't start off badly. In fact, he'd been on time and she'd thought he was cute in a nerdish way. He was tall, a bit thin, but still, he looked nice. His clothes were clean and he smelled good. The first clue that something just wasn't right occurred when they arrived at the restaurant.
That's when his mother called for the first time.
During their four-hour date, it lasted that long because he believed in taking small bites and chewing each bite a total of twenty-five times for proper digestion, she'd called a total of twenty-three times. Yes, Haley was sure that it was his mother because he stayed at the table when he took the calls so that she was able to hear every soul-crushing word.
The reasons for the calls ranged from she missed him, wanted to know if he'd rather come home and eat what she cooked, reminded him to clean his room tomorrow, and her personal favorite, she wanted to know if he was still with "her."Judging by her tone and the number of calls, his mommy was not a happy camper that her little boy was on a date.
Granted, her little boy was thirty-five years old, and according to him had never lived on his own. Why would he when he lived with his best friend? Meaning, mommy dearest. Of course, he did spend a good amount of time complaining about how unfair his mother could be. Who knew that a thirty-five-year-old man could still be grounded for not picking up his dirty socks? She certainly hadn't.
Haley couldn't wait to get inside her house and change into a pair of jeans and a tee-shirt and have a good laugh about this with Jason. Then again, Jason may not have forgiven her yet for what happened earlier, hence the large piece of chocolate cake with peanut butter frosting in the doggy container she was currently holding. Jason was a big baby, but a big baby that could be bought with food.
"Well, here we are," Haley said brightly as they pulled into her driveway, only to add, "It's been fun. Thank you again," as she practically ran from the car.
"This is a really nice house," Jonathan said from somewhere close by, too close. Haley looked back and bit back the curse that threatened to leave her lips when she saw him. He was following her to the door. She wanted to cry, really, she did. When would this nightmare end?
She walked up to her door and plastered another fake smile on her face. "Well, thanks again."
"You're welcome," Jonathan said as he gave her a shy smile before he leaned in to kiss her. Thankfully, she saw that one coming and turned her head in time to receive a wet kiss on her cheek.
Ew…
She barely stopped herself from wiping her face. She'd scrub it off in a scalding hot shower as soon as she got inside, Haley promised herself.
"Oops. Sorry," Jonathan mumbled as he leaned in to give her another kiss.
Faster than even she thought was possible, Haley had the front door unlocked and stumbled back, saving herself from more slobber.
"Well, it's been nice, but-"
"Can I come in for a cup of coffee?" Jonathan asked eagerly before he added, "I can stay out as late as I want tonight." Oh, she knew that he was lying. Someone was going to be in so much trouble when he got home, Haley thought, mentally tsking him.
She opened her mouth to politely refuse when the yelling began.
"Help me!"
What the hell? It sounded like Jason was in her house.
"Help me, please! Somebody, please help me! Why won't somebody help me?"
"What's that?" Jonathan asked, shifting nervously.
Haley didn't stop to answer. She was already running towards the sounds of Jason screaming, wondering why it sounded like it was coming from her room. Seconds later, she threw her bedroom door open and stumbled as she came to a halt five feet into the room, which put her directly in front of her bed.
"What the hell…" Jonathan muttered as he came to a stop behind her.
"Oh, thank god you're here, Haley!" Jason said, sounding happy for someone who was tied to her bed in only a pair of boxer shorts. "I know you said it turns you on knowing that I'm tied to your bed waiting for you, but I really need to use the bathroom and stretch my legs before we…" Jason said, his voice trailing off when he caught sight of Jonathan.
Sighing dramatically, Jason said, "I thought we agreed that you would tell me ahead of time before you added someone to our bed. It's fine this time. Lucky for you, I think we still have plenty of lube." With another sigh, he glanced at Jonathan, who was still staring at Jason dumbly, and added, "I hope you're not a screamer. The last guy screamed his head off every time I-"
"You're sick!" Jonathan cried, cutting Jason off. "Stay away from me and don't try to call me either! I'm telling my mother about you!"
Haley didn't spare Jonathan a glance as she glared at the man with the huge shit-eating grin tied to her bed. She was vaguely aware of her front door slamming shut and the sound of tires peeling out of her driveway a moment later.
"Is that for me?" Jason asked, looking pointedly at the styrofoam container in her hands.
"Mmmhmm," Haley mumbled as she walked around the bed and placed the container on his chest before opening it. She didn't miss the way that his eyes widened in pleasure.
"Is that-"
"Peanut butter frosting, yup," she finished for him.
He licked his lips as he stared at the huge dessert. "You are the best, ever. Untie me so I can dig in," Jason said absently as he continued to stare at the cake, probably trying to decide which end he was going to attack first.
"You can't get free?" Haley asked, taking in the knots securing him to her bed.
"Nope."
"You did this yourself?"
"Yes. Now cake, woman."
"Uh-huh…" Haley mumbled absently as she stepped away from the bed and headed for the bathroom.
"Wait. Where are you going?"
"I'm just getting something to untie you with."
"Hurry."
"Sure thing," Haley said, glad that he couldn't see her shit-eating grin.
New York Times Bestselling author, R.L. Mathewson was born in Massachusetts. She's known for her humor, quick wit and ability to write relatable characters. She currently has several paranormal and contemporary romance series published including the Neighbor from Hell series.
Growing up, R.L. Mathewson was a painfully shy bookworm. After high school, she attended college, worked as a bellhop, fast food cook, and a museum worker until she decided to take an EMT course. Working as an EMT helped her get over her shyness as well as left her with some fond memories and some rather disturbing ones that from time to time show up in one of her books.
Today, R.L. Mathewson is the single mother of two children that keep her on her toes. She has a bit of a romance novel addiction as well as a major hot chocolate addiction and on a perfect day, she combines the two.
In 2019/2020, R.L. Mathewson will be publishing Devastated, the first Anger Management novel, Tall, Dark & Furious, the 6th installment to the Pyte/Sentinel series, Irresistible, the long anticipated novel for the Neighbor from Hell Series as well as many more books throughout the year, paranormals, contemporaries, and YAs.