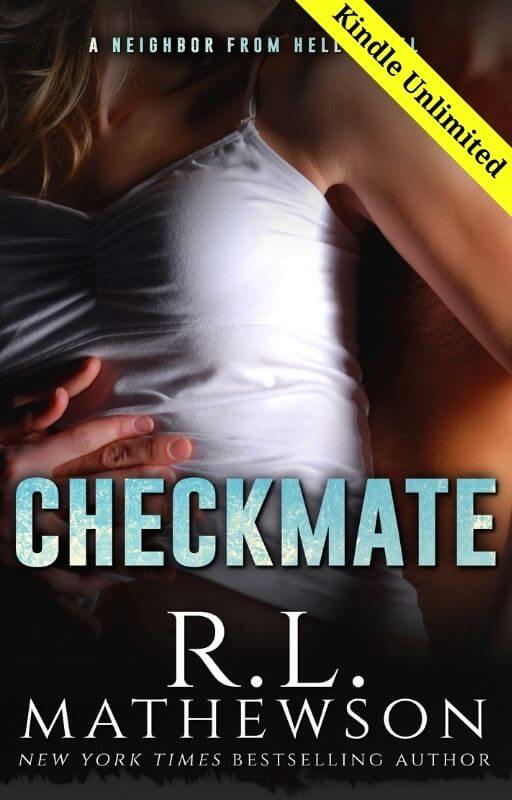 Nothing could have prepared her for the truth.
From New York Times bestselling author comes the third book in the disturbingly funny and incredibly sexy romantic comedy series Neighbor from Hell…
There's nothing worse than living next-door to your childhood nemesis, except maybe being forced to share your dream project with him, being blackmailed into going along with something that was just wrong on so many levels, and having your hot cocoa stolen by the person that drove you to drink it in the first place.
Then again, so was finding out that you were wrong.
Connor O'Neil will do anything to get what he wants and right now, he wants to get his hands on the one thing that would make all his dreams come true and he wasn't about to let little Rory James get in the way of that even if she was the one thing that he couldn't live without.
His only hope was that she never found out the truth.
Reviews for Checkmate
WOW – R.L. Mathewson has done it again!! She has blown me away and make me want to live in a fantasy world with the Bradford men and now James men!!!
The plot is great and I was expecting so many different things to happen and I was wrong every time! I loved that I was wrong – just tells you how great an author she is! I was on the edge of my seat the whole time I was reading this! I read this is one day because I kept wanting to know what was going to happen next!
I was finally so happy to read about a woman who was beautiful and actually new it!! Rory James was definitely raised by 5 big brothers so she was definitely more of tomboy but that didn't stop her from knowing how pretty she was. However, there was one boy/man in her life that seemed to take a liking in making her life a living hell – Connor O'Neil. They grew up fighting each other to the point that they banned from being in certain public places together because they caused so much destruction. Like my momma always said – if a boy picks on you, that means he likes you. 🙂
The bantering and confrontations between these two are hilarious! It's like you are watching everything come to life in front of you. You could tell that one point they just resigned to deal with each other but at the same time were hiding a lot of their deepest feelings. You start to see the protection Connor has for Rory but also feel the undying love he has always had for her. Rory takes a little longer to come to grasp with her feelings but you can completely understand why. The sex scenes are freaking fantastic – very hot and steamy. You can feel the chemistry between these two – it just oozes off of them.
We do get to hear from some of the Bradford men in this book since they are Rory's cousins. However, I wouldn't mind reading a book or two about Rory's brothers! R.L. really knows how to write about the perfect, hot men!
The whole book was well written – loved every single word!!! Highly recommended!!
*5 Peferct Stars*
–Court0517
Okay this one might be my favorite in this series …
"She'd been the prettiest little girl that he'd ever seen and he just had to push her and pull on her pigtails."
From the moment these two met as small children they developed a relationship for the record books … they hated each other … pranked each other …
They say there is a thin line between love and hate and Rory and Conner walked that line like a tight rope for years.
A girl who takes no crap and a sexy bad boy take crazy pranks to a whole new level in Checkmate. Seriously these people are super gluing boxer shorts, being forced to eat expired fuzzy yogurt, chained to toilets, duct taped to chairs, and so much more … Rory and Conner had me belly laughing the entire book. These two manage to get themselves banned from stores, restaurants, and clubs with their over the top antics. The Bradfords, Rory's cousins make an appearance and of course their food obsession is always entertaining.
But while this book had me laughing my booty off it also had its super hot moments as well as heartfelt moments. Again this book was a hit for me .. the characters were super easy to relate to and easy to love.
"She didn't take any of his sh*t, drove him out of his mind and he loved every single minute of it."
–Kelly
Another gem in the Neighbor from Hell series by R.L. – I love how Rory and Connor's story is a childhood friendship/enemies to lovers sort of romance. I was laughing almost constantly over Rory's threats with pliers to Connor's body parts and her addiction to hot chocolate. I enjoyed seeing Jason, Haley, Zoe, Trevor and the rest of the Bradfords too. Connor? That man won me over once the truth of his hidden love for Rory came thru. So many feel-good, laugh-out-loud, and swoon-worthy moments that will kept me smiling until the very end. R.L. never disappoints me with her additions to this series….considering I've read this more than once and enjoy it even more each time I do. R.L. has a true talent with writing light-hearted romcoms filled with tons of feel good moments, Checkmate proves that.
–Marcie (@thecliteraturecorner)
Absolutely Loved this story! It's funny as hell, sexy, drama filled, and sweet!!!
You will fall in love with Connor and Rory's story and you just have to love those Bradford & James boys!
Connor and Rory have been each others nemesis since preschool. Pulling all kinds of tricks and stunts to up one on each other, they have landed in trouble and banned from too many places to count.
To make matters worse, they even live next to each other.
Rory is definitely not a girlie girl, having grown up with 5 older brothers and a Mom who left them, she does everything she can to make her Dad proud. Running her own construction company, she is one of the best there is and is about to land the job of her dreams. However, Connor also has his own construction company and bids on the same job as Rory. When the owner decides that he wants both of their companies to work on the project, it will take all the hot cocoa in the state to keep Rory from strangling Connor! It is a wild and fantastically hilarious ride as these two try to work together to get the job done. A definite must read, I freaking loved this book!!!
–Laura McMillin
This is the third book in the series and all I can say is…it just get's better and better!! I absolutely LOVE R.L. Mathewson's A Neighbor from Hell series and would highly recommend this or any of the others in this series to those who enjoy playful banter, off the scale HEAT woven between a great humor. Although the characters are connected, the books can also be read as stand alone.
This one is about Rory and her childhood nemesis Connor. Since grade school, they have been in constant competition to one up each other. The entire town is on constant watch and has banded them from several establishments, restraining orders placed on one or both of them and one or two nights in jail due to their shenanigans.
Rory can't seem to escape Conner even as an adult. Connor was more than happy to purchase the house next door for renovating and happily decided to stay permanently. In one way or another, he has remained a constant thorn in her side.
Forced into working together on a project, Rory and Connor must set aside their differences and work together to make the aggressive timeline.
This was a fantastic story filled with devious scheming, bonds between family and friends, sacrifices made and an amazing amount of….cocoa!
–Satxbookworm
Childhood enemies are forced to work together on a lucrative construction project.
This book made my "keeper" list. It's funny and sexy and full of angst. Rory James (a Bradford cousin) and Connor O'Neil are equally hardheaded and bad-tempered. Their epic feud began at age six and has impacted the entire town. Some businesses have banned them for life. Others won't let them both be on the premises at the same time.
I love how Mathewson manages to give us the present day situation and yet smoothly drop in episodes from Rory and Connor's past. They have played some dirty tricks on one another. Little by little, we also realize that Connor's motivation all these years isn't what everyone thinks. We see how time and again he's protected Rory from bigger trouble than he ever caused. This makes his snit late in the plot (when he erroneously believes Rory has two-timed him) somewhat unconvincing. The single episode of drama for drama's sake is the only weak spot in an otherwise great book. The romance itself builds nicely. Lots of spice.
Rory's brothers and cousins…all male…provide plenty of comic relief. Poor Connor comes close to death-by-brother a few times.
With all the funny parts, CHECKMATE still manages to generate serious steam. Highly recommended.
–Clahain
R.L. Mathewson is one of my favorite authors, and has given us another AWESOME book !!! I absolutely LOVE the Neighbor From Hell series and I can honestly say that they are by far in my top 10 favorite books!!! She has the ability to make you fall in love with her characters and feel as if you actually know them. I love Rory and Connor, they were both hilarious and loveable at the same time!! Rory and Connor are truly a BLAST!! I was sitting on the edge of my seat waiting for the Bradford Men to make their appearance. I am addicted to the Bradfords and they are HILARIOUS with their obsession with food. I don't think I will ever go into Sam's Club again and not think of the chaos that they could cause in the store with all the free samples (haha) I actually laugh out loud reading about them. I also loved Rory's brothers!! The sarcasm between Rory and Connor will have you in stitches and the things that the two of them have done to each other over the years is awful but hysterical at the same time. You will fall in love with Connor from page 1. It is clear that they are made for each other!!! I LOVED this book and I hope that this series continues !!!
–Heather
Of course I gave this one 5 stars! The Neighbor from Hell series is most definitely one of my favorites and hasn't lost any of its charm, heat or hilarity. The antics of the Bradford's blow my mind, and to think that the James' (their cousins) are pretty much the same without the insane appetite, brings a huge smile to my face.
I loved the pranks Rory and Connor had been pulling on each other since grade school, and it really brings home the saying that little boys only mess with little girls because they like them. Well apparently that little boy's "like" turned into love, and this book.
Like the first two books in the series, this one was hilarious, sweet, hot (so hot) and thoroughly enjoyable. There was even a point where I got pissed at Connor, but I'm glad that didn't last for long.
So of course I now have to get book 4 to see what else the Bradford's and James' get up to, and I also learned that RL Mathewson has a few other series' under her belt!!! Definitely have to get my hands on those…
–Skbgirl
This was only my second book by R.L. Mathewson, but what I have discovered is that the author has quite the sense of humour!
I loved the constant bickering between our H/h, Connor and Rory, and the fact that, when I wasn't chuckling with something I had read, I found myself with a constant smile on my face.
Connor and Rory first meet when they are just children, and spend their early years and into adulthood being a thorn in the others side. Their being forced to work together will bring new confrontations, but will also bring to the fore emotions that have been bubbling under the surface all these years.
If you like your romance with a touch of madcap comedy, then this is the book for you! There are moments that will make you laugh, moments that will make you smile, moments that might even bring a tear to your eye, and even a few moments that will have you fanning yourself!
This is a feel good read, and the perfect book for a summer afternoon lazing about.
–Gigi
I was so excited when at 2 AM I downloaded this book and lost sleep but it was sooo worth it. I think this is in my top two as favorite. I loved Rory so much she was strong and independent and Connor was sexy and sweet. I thought I was going to hate Connor for his "plan" but it turned out to be a good thing. The story was funny even sad. I laughed and cried and couldn't put the book down. I've read all the books from this author some up to 3x just to get my fix while i waited for this books release and I think she gets better with each book. Highly recommend all her books they are funny and based on real characters and struggles and I like how I can relate to all her characters in a way. Keep up the good work RL!!
–MadBos808
"Honestly, I never thought Rory was that desperate," Andrew said, grabbing his attention.
            "What the hell are you talking about?" Connor demanded, tossing the empty water bottle in the barrel as he glared at his best friend.
            "Well," Andrew mused as he crossed his arms over his chest, "she hates you, she's hot, and did I mention that she hates you?"
            "She doesn't hate me," Connor said with a snort.
            "Then what do you call it?" Andrew asked, grabbing a bottle of water for himself.
            "Severely disliking me to the point that she's actually considered doing me bodily harm?" he suggested, chuckling when his friend flipped him off.
            "It makes me wonder why she'd agree to go out with you," Andrew mused as he lightly tossed him another bottle of water.
            Connor had to snort at that as he caught the bottle of water and opened it. "Because she's desperately in love with me."
            Andrew simply shook his head as he said, "No, that's why you're with her."
New York Times Bestselling author, R.L. Mathewson was born in Massachusetts. She's known for her humor, quick wit and ability to write relatable characters. She currently has several paranormal and contemporary romance series published including the Neighbor from Hell series.
Growing up, R.L. Mathewson was a painfully shy bookworm. After high school, she attended college, worked as a bellhop, fast food cook, and a museum worker until she decided to take an EMT course. Working as an EMT helped her get over her shyness as well as left her with some fond memories and some rather disturbing ones that from time to time show up in one of her books.
Today, R.L. Mathewson is the single mother of two children that keep her on her toes. She has a bit of a romance novel addiction as well as a major hot chocolate addiction and on a perfect day, she combines the two.
In 2019/2020, R.L. Mathewson will be publishing Devastated, the first Anger Management novel, Tall, Dark & Furious, the 6th installment to the Pyte/Sentinel series, Irresistible, the long anticipated novel for the Neighbor from Hell Series as well as many more books throughout the year, paranormals, contemporaries, and YAs.