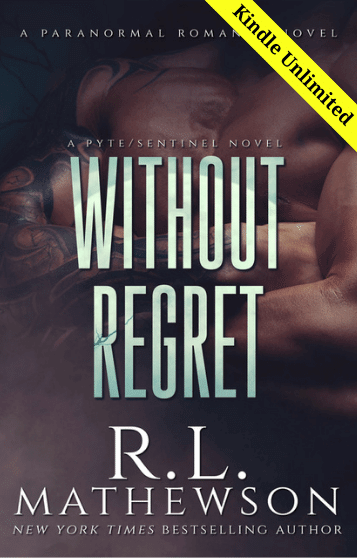 Now Available in Kindle Unlimited
Chris Williams is used to making sacrifices. For years he's done his duty by his family and his calling as he awaited the one person that was meant for him. When she finally came into his life she was nothing like the woman he'd expected. Instead of being the warrior ready to help him protect his family and the humans under his care he got..
A computer geek named Isabella, who somehow managed to get her name on every Master's hit list. One minute she admits that she'd made a foolish mistake and the next she's kidnapped, held hostage by a crazy cult who steals her chocolate and she's sure is after her program, a program she has no plans on giving up anytime soon. As she tries to keep her wits about her the sexiest man she's ever seen claims her, only he doesn't seem to happy about it. It's clear that he doesn't want her, but the stubborn man just won't let her go even when it's clear that he may not have a choice.
Reviews for Without Regret
Loved this series of books.
Once I started on book number one I enjoyed it so much I had to buy the series and read all the rest of them.
Particularly liked how each book was mainly about one couple and in every other book the characters that we had previously read about and loved, appeared throughout all of the books.
Looking forward to reading more from this author.
–Lyn
Ok, Ok, Ok… Chris was a total a$$ for most of this book… but isn't that what we love ladies… the bad boy being bad and then the girly turning him around and bringing him to his knees??? I know I do!!! I just knew Chris would be hard to get!!! actually he wasn't hard to get, he was hard to keep!!!!
I started this book on Saturday morning and finished on Sunday around dinner time… I would have been done sooner, but I had to do some other stuff… you know… like take care of my family, feed them, stuff like that!!! In fact at one point, my five year old came up to me and said "Mom, my tummy just rummbled, you're starving me!" Total LOL moment!!!!
I so fell in love with Izzy the second she started talking… what a cutie, "Munchkin!" Perfect for a loud mouth, meanie like Chris!!!
I'm glad so many new characters were introduced in this one… would love to see a book about Kale, Lucan, and Josh!!! <<wink wink RL>>. Patiently awaiting Tall, Dark, and Heartless!!!
5 STARS!!!
–Rough Draft Book Blog
I just recently found RL Mathewson books and have enjoyed all of them. However the Pyte series is the best. The characters draw you in, the mythical twists of the supernatural and the turns in the plot. This is a definate MUST READ, you will not be able to put it down. Seriously, I blew off work for three days and read the first three books. I am patiently awaiting book four.
–A Fan
Without Regret is the second book in the Pyte/Sentinel series and it focuses on Chris and Izzy. Their relationship is far from perfect and there are plenty of times that I would have loved to kick the crap out of Chris and fling my Kindle across the room, but R.L. Mathewson is such a genius she made me like him again. Action, sex, love, family…you've got it all.
–Tina C Reynolds
I absolutely love this trilogy. I would like to see it made into a movie. It's funny, exciting and hot three of my favorite emotions . I can visualize it as I'm reading I love all the characters including Chris in this one, I can understand where he coming from. Must read love it. R.L Mathewson is a great writer I love all her books
–Amazon Customer
Without Regret is Chris's story. Chris has stepped into his Sentinel duties and he is all grown up. A bit of a jerk but all grown up. We follow him as he finds his "soulmate". It is emotional but I loved every second of it! It is well worth the read and you will fall deeper into RL's world! Go read it now…
–Pam
Have to say I am absolutely in love with Chris!!! He is so funny and sweet. I have never really read these types of books before. The whole vampire and werewolf thing just never did it for me but I am totally hooked on this series. R.L. is a genius!!! Can't wait for the next book!
–M.gonzalez
R.L. Mathewson writes some of the best stories, ever. This new series, is absolutely astounding. I loved the complex characters, the entire idea of another type of vampire and a more involved group of warriors. This was well written, well thought out and absolutely a great love story.
–Silver Soul
A Super Fantastic Series… It's Sad, Funny, Sexy, Adventurous, Mysterious can't wait to see what happens next and Hot as Hell. So much of everything you can't go wrong with Sentinels, Vampires and Pytes….Oh and the Best Female Characters..A Must Read!!!!!!!!
–Toi Dodd
I cannot get enough of this Pyte/Sentinel Series. I have read every one of R. L. Mathewson's books, and have never been disappointed. However, I am badly needing another fix. MORE, PLEASE!!!!
–L.J. Young