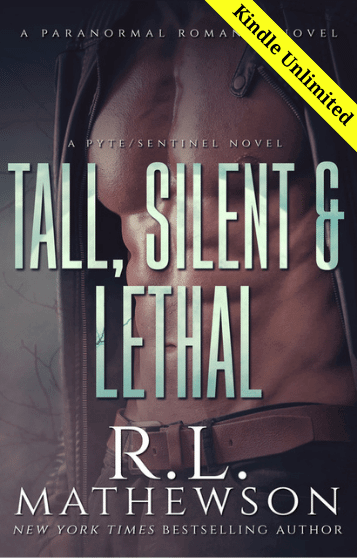 Now Available in Kindle Unlimited
This is the book that will change it all…
Never again…
Christofer lives by those words while Cloe would rather die by them……..
Too many years living on the run, of always being seen as nothing more than a monster and a freak, has left Christofer cold and distant. He hates his life, his fate, but he's made promises and nothing on earth will stop him from keeping them….
Except for the woman that invades his world, takes him by surprise, aggravates him, gives him hope and makes him wish that things could be different, but they can't…….
Not unless he's willing to risk everything.
Cloe doesn't need anyone, doesn't want any complications, but things quickly change when she accepts a job that destroys her world and brings her the one thing that she never thought she'd find again….
Peace.
Reviews for Tall, Silent & Lethal
OMG…Ok, so I don't write reviews very often mainly because I usually don't get around to it but I had to this time. R. L. Mathewson is such a fantastic author! I love all of her books but it's a toss up between the pyte/sentinel series and the neighbor from hell series on which I like more. Either way you can't go wrong. The characters and storyline are so well developed and there's never what I would call "dead space"… the parts where you skip ahead a little, something I've done in more books than I'd care to mention.
Now on to the story. Christofer and Cloe are a fantastic couple and are such strong characters. It was the right mix of stubbornness, wit and down right hot scenes that can keep a girl reading way past dinner, and then realize that it's midnight and you didn't even eat to begin with. Christofer was strong and loyal and I loved the spin on why he was a bit "different"… not to mention he's just plain hot. Cloe was just, fierce. It was incredible to see her go through so much and still be that person. It was refreshing to see Kale actually show some level of morals when it came to Pytes. He played a much bigger part in this novel, and I loved it.
This novel was a long time coming, but it was so worth the wait. R. L., you are truly gifted.
–Cappsak
I started out reading RL's Neighbor From Hell series and loved her writing style. I truly wasn't a paranormal reader before that. I had read all the contemporary books she had and figured why not try the 1st Pyte/Sentinel book. I can honestly say she got me started on the genre and I read the first three books in 2 days. I've been waiting for this one ever since. I loved that although the book focused on Christofer and Cloe, we still got to see all the previous character's stories progress as well as get a look ahead at what might be next. Loved. Loved. Loved.
–Eve379
The ONLY problem I have is that the other books aren't ready yet!! This book was everything I've waited so long for and it's left me just panting waiting for the next books in the series. And R.L. Mathewson is an evil, sexy genius!!
–Mlissa Caines
A five star review for sure. The next generation of the Pyte/Sentinel Series a SMASH. I read this entire book in one day, unfortunately things like my job prevented me from reading it in one sitting, or I would have!
What I LOVE about these books is the way the characters are ingrained in the story and we are able to follow the characters from all of the books in each addition to the series. If you have not read these books yet I highly recommend reading them in order, to be able to get to know and love each character.
–Amanda
Once again R.L. Mathewson has made us fall in love with the Williams clan!
This is such a great continuation of the Pyte/sentinel novels. We get more Williams family, and add two more great characters! I also like the slow changes in Kane towards the family!
I was going to "savor" this book and respect the time it took to write it, however.. I gobbled it up in less than a day because IT IS JUST THAT GOOD!
–Holly A.
I absolutely adore everything R.L. writes and when I saw this book was coming out I am not afraid to admit that I squealed in girly delight. And it was everything I wanted it to be. The same characters I've grown to love, the same witty banter, and the unrestrained love scenes. I REALLY enjoyed this book and I hope this reviews inspires you to grab a copy. You won't be disappointed!
–Kindle Customer
LOVE LOVE LOVE LOVE LOVE!! Ok. I'm biased cause I have not read a single book by R. L. Matheson that has not been fabulous. And her characters make you wish that you were in the books. I wait anxiously for her new books to come out. And can honestly say that I am NEVER disappointed! I recommend this Author and ALL of her books.
–Kindle Customer
R.L. Mathewson's newest installment in the Pyte/Sentinel series is absolutely fabulous! Tall, Silent, and Lethal is a great story that focuses on Cristofer and Cloe. Plenty of action, sex, romance, and laughter. R.L. Mathewson is one of my automatic one click authors with good reason and this story is another winner without a doubt.
–Tina C Reynolds
I really love this series, the characters are fun and I love the interaction between family members. So far I have read most of everything R.L. Mathewson has written. I love how she builds the characters and the dialog between them. She is definitely one of my favorite authors.
–Cindy Sloan 
R.L. Mathewson completely blew my mind, again, I am never disappointed with her writing. how she manages to make laugh so hard and cry even harder is beyond me, I look forward to her next Pyte novel and all her other works because just like chocolate you'll get addicted 😉
–Wlamed
He closed his eyes and listened. He heard two heartbeats. One on the first floor, which was Marta's and the other was on the second floor, which meant that Cloe had made herself at home.
Oh, hell no….
He took the back stairs two at time and raced towards the sound of her heartbeat. It came from a closed door at the end of the hallway. Without slowing down, he threw the door open and quickly stumbled forward, tripping over his own two feet from the sight that greeted him.
"Don't you knock?" Cloe snapped as she grabbed a towel to hold up in front of her.
He opened his mouth to speak, but nothing would come out. His eyes were fixed on that damn towel that she was now using to cover up heaven. He glared at the damn thing, willing it to drop or shift to the side a foot or two so he could see that beautiful body again. Large breasts tipped with dark pink nipples, a flat stomach with just the slightest swell, wide hips and soft (he was willing to bet his life they were soft) butterscotch curls between her legs that were just begging for his devotion and he would give it too.
"The towel's not going to disappear and I'm not dropping it."
She couldn't know that for sure, he decided as his gaze on the towel intensified. For another moment he stared, more like silently pleaded for it to move.
"You really need to get laid," she said dryly.
His eyes snapped up to hers. Holy shit! Was that an offer?
Cloe rolled her eyes as she managed to wrap the towel around herself and tucked it in between her breasts without giving him a show.
Damn.
"Is there something that you wanted?" she asked.
You. "I-I wanted to…" he stammered before his voice trailed off. His gaze had dropped back down to the cleavage that he wanted to run his tongue over and he was back to willing the towel to drop.
She sighed as she walked over to him. Thank God because his feet wouldn't move and he was practically screaming at them to go to her. She was taking the initiative. That was fine with him. He'd let her set the pace and then he'd take over and probably take her on every surface in this room.
Cloe gripped his arms, tightly. Oh, yeah. He leaned down to kiss her when he was unceremoniously shoved from the room. A split second later, the door closed in his face.
"But…but…."
He heard her soft laughter from behind the door. He stared at the door for another moment before he came to his damn senses. It was probably a good thing the door was between them so that his blood, well most of his blood, could return to his head. He was fucking weak, he thought with disgust.
© Rerum Industries, Inc. 2014. All Rights Reserved.