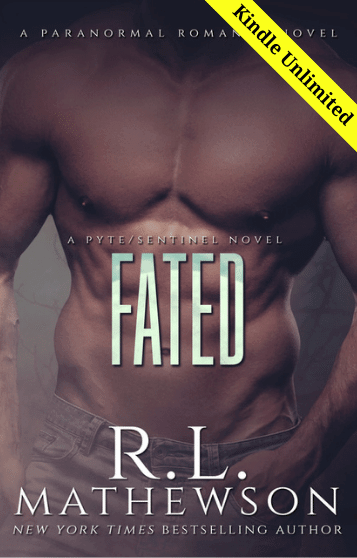 The first shifter in the Pyte/Sentinel Series:
As the top Alpha male of Boston, it's Drew's job to keep his Pack safe, keep the humans from finding out about their existence, try to pretend that he was fine with the way that his life was going and most importantly, not give into the urge to kill Kara, the thorn in his side for way too long.
When fate steps in one night and destroys his world, he strikes back, but his new mate is more than he can handle…
Reviews for Fated
Oh words can not explain how great this series is. I have loved R.L. Mathewson's writing since I first picked up Tall Dark and Lonely. I honestly could even begin to guess how many times I have re-read that series. She is the best, with humor, and such strong alpha men and unique woman all are a little different and have such different personality.
As for "Fated" I was hooked in the first chapter. OMG what a different twist to a shifter book. I just love it. I promise you laughs and suspense and passion. And nothing better than a little catch up with the rest of the gang either by the end of the book.
It'll make you want to go make yourself a "Drew Special" while reading it.
I HIGHLY Recommend this book as well as ALL her Paranormal books. While reading them you become so attached to the characters you begin to feel like family. And it is all very modern and you could easily fall into this world for real.
–Denise
Funniest and hottest book I've read in a while. I cracked up through most of it. I loved Kara, Drew, and especially Ryan.
Kara is a werewolf shifter who is in Drew's pack but not one of them. Drew is the Alpha and manwhore. When they accidentally touch, the mating mark shows up and they are both ticked. He thinks he can just put her up in a penthouse and use her when he wants sex. ( a mated male can only have sex with his mate but a female can have sex with any male but only babies by her mate.) She swears to never have sex with him. But someone wants her dead and Drew will do anything to keep her alive.
Sexy Alphas. Crazy werewolves. Funny Beta. And surprises galore.
–WFTM
We really need to figure out a way to clone R.L. Mathewson so that she can write more of the Pyte/Sentinel series, the Neighbor From Hell series, cursed hearts series, Hollywood Hearts, Sudden Response…well, you get the idea. Her books are just so good, filled with humor and sexy, that you just tear through them so fast and then it's over. And you have to wait for another one. Torture at it's best.
This is the first story dedicated fully to shifters and Drew and Kara will definitely have more stories to tell. Great as always!
–Tina C Reynolds
I hate it when you wait for so long and then consume a book in a couple of hours and finish craving more. It was great, has everything the funny (poor Ryan hope you have a book in mind for him) the issues not spoiling nothing and the love. Love keeping in touch with our Pytes and the family keeps getting bigger. Hope next book in the series is for Kane. Keep them coming R.L. Everything I've read from you is a 5 star!!
–Chrissaimy
Another fab book from the genius mind of R.L.
I've never been that big of a fan of standalone series until I started getting into her books. I LOVE getting the sneak peaks at all the previous couples while falling in love with an entirely new one!
I was a little leery since this was a shifter book and not a Pyte or Sentinel, but that was a dumb thing to be.
Kara was sassy and Drew was yummy!
–Kelsey D
Fated: A Pyte/Sentinel is a very exciting and sensual romantic comedy that earned a five star rating. I enjoyed reading this book and found it to be humorous with some sadness as the two werewolf shifters find themselves fated mates. They didn't even liked other but they found they had love for each other after her secret is exposed. I would recommend this book to anyone who enjoys reading good romance novels.
–Kindle Customer
This is the first Shifter book in the series and I loved it! I never would've seen the story unfold like it did. Loved the way it did turn out and getting more insight into the world of the shifters and how they fit into the great beautiful world that RL Mathewson has created for us to enjoy. I can't wait until we see more whether it be Pytes, Sentinels, Shifters, vampires or demons.
–_Dimp1es
This was a great read, I love this series. I laughed so hard in parts I swear that my housemates thought I had a screw loose. The humour blended with a bit of blood shed while throwing in a couple whose lead up to their happily ever after gives a new meaning to the phrase there is a fine line between love and hate make for a fun loving read.
–Black Feather Blogger
I have loved all of the Pyte/Sentinel books and was a little apprehensive about a shifter book. I love my paranormal books and knew that she wouldn't disappoint me. Fate always has a plan and sometimes we have to just roll with the punches. I wasn't expecting the twists and turns that this story took but I wasn't disappointed. Read it.
–Brandy D.
I was introduced to RL two years ago and not once have I been disappointed!!! I love how her books make you laugh out loud and at times tear up. Her characters range from spunky to ridiculous AND I LOVE THAT!! Thank you and keep up the great work!
–Jph
"I-I can't feel my legs," Drew's Beta, Ryan, a harmless, yet entertaining man said from somewhere across the room.
            Kara didn't bother looking up or even ask if he was okay since she was still trying to figure things out. She'd thought that eating something would help, but so far all he it had done was attract the attention of two annoying werewolves.
            Okay, to be fair, Ryan hadn't been annoying. He'd simply walked in the kitchen, grabbed a spoon, sat down from across from her and started eating. That was it. He didn't bother her, ask her what was on her mind, or more importantly, anything about Drew. For that, she'd allowed him to live when he'd hogged the section abundant with chocolate chips.
            Then he'd shown up and she'd realized that her time for reflection was over, but once again, Drew took her by surprise when he simply removed Ryan rather violently, sat down and joined her for some ice cream. For the first few minutes she'd been on the edge of her chair, waiting for him to say or do something to piss her off and wreck the moment, making the decision to leave the city and try to make it on her own, but to her surprise, he hadn't said or done anything to piss her off.
            Yet.
            But he would. She knew him well enough to know that he was waiting for the perfect moment to irritate the shit out of her. Her nerves were on edge, making every second worse than the last as her anxiety rose even as she prepared several well-deserved comebacks for whatever bullshit that was about to come out of his mouth to piss her off.
            All she had to do was wait for it, she decided, narrowing her eyes on the bastard sitting across from her, eating ice cream like it was no big deal.
            "Oh, God….my ass…," Ryan groaned, letting her know that he'd regained consciousness as some point.
            Instead of asking if he was okay, because let's be honest here, she really didn't care, she focused all of her attention on the man who sat across from her, baring her mark and waiting for the interrogation to start all over again or another rendition of his bullshit rules. So, when he suddenly took one last bite of ice cream, stood up and tossed the spoon in the sink before he left the kitchen without a word, she realized that the devious bastard was up to something, which unfortunately for her, intrigued the hell out of her.
            Damn, werewolf curiosities, she thought with a heavy sigh as she pushed away from the kitchen island and decided to find out just what the bastard was up to.
            "I don't think that my arm is supposed to be bent this way. Guys?
            Rolling her eyes, because the man was just too damn soft to be anyone's Beta, she walked over to the man laying in a tangled mess on the floor, grabbed his obviously dislocated arm and with a few minor jerks, had the arm locked back in the socket.
            She hated to admit this, but she was relieved when he'd finally passed out, because all that screaming and begging for mercy had actually started to give her a headache.