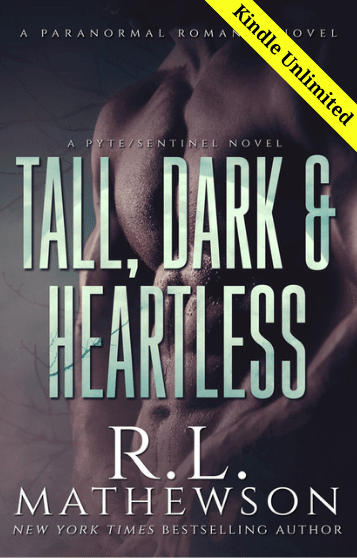 Now Available in Kindle Unlimited
He should have left her and never looked back…
But, that's not how things played out for Caine, a nearly one thousand year old Pyte, who should have known better. Instead of walking away years ago, he stuck around and watched over the only woman he'd ever cared about. When trouble finds her, he knows that he should just cut his losses and walk away, but there was no fighting the hold that woman had on him and now they were both paying the price.
Danni didn't care that she wasn't technically a Sentinel and was putting her life in danger every time she went out on patrol, because she had a job to do. It was the only thing that mattered to her anymore and she wasn't going to let it go without a fight. Unfortunately for her, she didn't foresee her ex-boyfriend selling her out to a Master, being captured, locked up and stuck in a room with the cranky Pyte that broke her heart years ago and wouldn't stop glaring at her as if their little predicament was all her fault.
Reviews for Tall, Dark & Heartless
R.L. Mathewson knows how to keep a series going and still add more drama and hot scenes to the mix.
In this book, we meet Danni and Caine. Their past effects how these two will work together in the present. But sometimes, there are just certain things that you can't fight – fate is one of them. These two go through ALOT in this book – the good, the bad and the ugly. They have to overcome a huge issue in order for things work out right – but some things were put in place for a reason. And I love that the other characters are still mentioned throughout the book to keep you up to date on them.
I love the whole story line and how well written it is. The sex scenes are very intense and perfectly written!! The conversations and the jibes between Danni and Caine keeps the book lively. You can really feel their emotions in this book. LOVE IT!
Great book and fantastic series.
I can't wait for the next book in this series!!!
–Court0517
I started off reading R. L.'s Neighbor from Hell series. I was hooked after the first book! I was leery, though, about the vampire series. I have never adventured into vampire territory, but I knew R. L. would not disappoint me.
The entire series made me believe in vampires. I so, wanted to be Danni. Reading the connection between she and Caine gave me so many tantalizing sensations. Truly a love story filled with lots of intimate connections. Everything was written vividly. Scenes and characters were truly imaginable and creative.
The way that R.L. connects characters from previous novels is marvelous. If the books are read out of order, you can still make sense of the previous characters. She provides just enough details without reliving the other books in the series.
Great read. Looking forward to more characters and books in this series, especially.
–LyricalSoul
I love this book and series. This is my first review but I've read it several times and will read it many many more times!!! The love between different characters and the struggles they go through are easily relatable. There are twists and unpredictable surprises throughout the book. Tall, Dark & Heartless is entertaining on so many levels. It makes you laugh your ass off, be scared for them, want to cry, be happy when something turns out right and even feel their lust. Once you start reading this book you won't want to put it down. Again, it's a great book and a must read!!!
–Kim Clark
This book is the third in the Pyte/Sentinel series and is a winner. I love the series and really want the next one to come out…preferably yesterday!!!!! We have our favorite couples from the previous books as well as the newbie couple. Caine and Danni are great! I loved that they got their HEA and can't wait to read more about them. But what I really want to know is what became of Joshua!! Hope we find out in the next book!! Come on RLM…Write faster please… I need my RLM fix soon! I've reread all her books now and neeeeeeed another!! Give this book a read even if you're not into paranormal romance. You won't be sorry.
–Holland251
RL is a new writer for me and I must say I am looking forward to more of her books. I love the Pyte series. I was hooked from the first book. This story was fabulous. Loved the Hero(such an alpha male). I hope she writes about the other characters in the books like Jax, Joshua and Jill. Can't wait for the next book.
–Dana Johnstone
Amazing story that had me cheering, crying, and are you serious!!! It was an amazing story that spands over the other two books before it and amazing how the long lost love can find new, hot, amazing love and the hotness of the story adds to the depth of characters that we can see with each book. I can not wait for the next!
–L R Dinsdale "Rae"
Ok this author knows what she is doing. This is another series of hers. The characters are funny and so lovable, you start feeling for them. All the love they have is shown and expressed. The steamy scenes are done very well. If you like this, try her neighbor from hell series.. Not a let down at all.
–Pretty bird
Once again R. L. Mathewson scores. I really enjoy reading this whole series and can't wait for the next installment. I love her style of writing and the way she keeps up with this family. Each story lets you know what is happening with each and every member of this close knit family. I don't want to put my book down ever because it captures my attention and they do pick up where the last one ends making it one big story. I will be getting the next one as soon as it is released.
–Robin
This Author is brilliant ….You have romance, sex and even a few lines that make you laugh . I came across this author by accident and so glad I did ..I've read all 3 books in the series and hope there will be a fourth.. As I loved J.R Ward ,Chloe Hart and Lara Adrian I tried to find something similar…. Well I certainly did ..I couldn't put it down…House work and Washing ..Well lets just say I'm still catching up. A Brilliant book, but I would definitely read book 1 and book 2 first. ENJOY !!!
–JoJo
I've only recently got into the supernatural reading genre and I have to say this series of books was an incredible find that I can't rate highly enough. Other reviews have filled you in on the plot so I won't repeat what has been said. What I would say is don't hesitate to download these books! I'd originally downloaded these to take on holiday with me but have read them in 3 days meaning I'm now craving the next one in the series to come out – cant wait….. Have been on the authors web site and see that it is a self published series which gives me more joy knowing I am supporting an author with incredible talent. Will be downloading other books written by R.L Mathewson.
–Fly like a bird
"There's a lot more out there right now than just shifters," Chris drawled, watching her reaction very closely.
"I see," she murmured, letting her hand drop, not surprising him, but sure as hell disappointing him, which after tonight should be damn near impossible. She turned around to face them, taking a slow deep breath before she said, "Could I have my bag back and a ride into town?"
He had to snort at that. She wasn't going anywhere until she answered his questions and then she'd be going where he decided, which was as far away from here under Sentinel supervision as he could manage.
"I'm not giving you a ride anywhere," he said.
She blinked at him. "Oh, I wasn't asking you. I don't like you. I was asking him," she said, pointing towards Joshua, who had the balls to grin.
He shot his brother a glare, but his displeasure only seemed to make the little bastard grin more.
"If you give me a ride I'll answer whatever questions you want," she added, sounding hopeful.
"You're not going anywhere," he said, stalking forward and ignoring the urge to wipe that smug look off his brother's face. "You're going to stay here and answer my questions and then you'll go where I decide."
"No, I won't and secondly who the hell died and made you my keeper?" she asked, giving him the same look that he'd seen Madison give his father when the man had fucked up, but right now he didn't care that she was pissed. He cared even less that she liked his brother more than him. It didn't piss him off at all to know that she preferred Joshua over him.
Not. At. All.
"I'm your mate," he said, stepping into her personal space and backing her up until her back hit the wall. "That gives me all the rights I need."
"Your mate?" she asked, incredulously. "I believe that term, whatever the hell it means, no longer applies to you since not even two minutes ago you announced to one and all that you were getting rid of me."
"It's not like we have a choice," he practically growled, his eyes dropping to her pursed up lips and he wondered if he could kiss that frown away.
"Well, you chose to send me away so I think that means I'm free and clear of you. So if you'd just go get my bag for me I can be on my way," she said firmly, but he hadn't missed the little tremor going through her body or the nervous way she licked her lips.
"How about this," he said softly, leaning into her until his mouth was by her ear, "you're going to tell me whatever I want or I'm going to put you over my knee and spank your ass. Which one will it be?"
New York Times Bestselling author, R.L. Mathewson was born in Massachusetts. She's known for her humor, quick wit and ability to write relatable characters. She currently has several paranormal and contemporary romance series published including the Neighbor from Hell series.
Growing up, R.L. Mathewson was a painfully shy bookworm. After high school, she attended college, worked as a bellhop, fast food cook, and a museum worker until she decided to take an EMT course. Working as an EMT helped her get over her shyness as well as left her with some fond memories and some rather disturbing ones that from time to time show up in one of her books.
Today, R.L. Mathewson is the single mother of two children that keep her on her toes. She has a bit of a romance novel addiction as well as a major hot chocolate addiction and on a perfect day, she combines the two.
In 2019/2020, R.L. Mathewson will be publishing Devastated, the first Anger Management novel, Tall, Dark & Furious, the 6th installment to the Pyte/Sentinel series, Irresistible, the long anticipated novel for the Neighbor from Hell Series as well as many more books throughout the year, paranormals, contemporaries, and YAs.