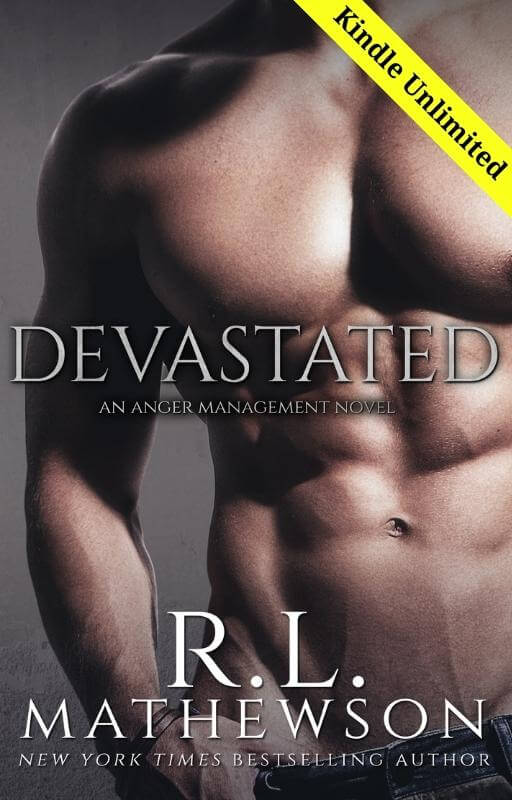 From New York Times bestselling author of the Neighbor from Hell and Pyte/Sentinel series comes a contemporary romance series that takes on the impossible.
Sometimes you have to go through hell to get what you want…
The last thing that Hunter O'Mallery needed was an assistant, but thanks to the deal that he never should have made, he has one. As long as she stays out of his way, he was more than happy to ignore her, but now that she's caught his attention, he can't stop thinking about her. She intrigued him, which was the last thing that she wanted to do.
Everyone has something in their past that they'd like to forget, but for Kylie Davis there's no escaping her past. It follows her everywhere, determined to destroy her, and make sure that she pays for the one thing that her family could never forgive her for.
Being born.
Welcome to the Anger Management series.
Excerpt of Devastated
"Expiration is…" Kylie mumbled as she searched the Snickers bar that she'd found lodged beneath her seat for an expiration date, "February 2010."
Worrying her bottom lip with indecision, she contemplated eating the candy bar that was nine years past its expiration and obviously a parting gift from the last person who'd owned this car. Kylie normally wasn't big on sweets, especially expired ones, but since she hadn't had a chance to eat anything since lunch yesterday, it was now fair game. She was starving and willing to take a chance on what was most likely going to end up being an adventure later when the candy bar finally settled in her stomach. She'd either end up desperately searching for a pharmacy to get her hands on some antacids or begging a doctor at the emergency room to kill her.
For a moment, Kylie remained kneeling between the back-passenger door and the car as she contemplated the risks. When her stomach released another vicious growl, she decided that a night in the emergency room was well worth the risk. The fact that the candy bar was no longer an attractive light brown, but a hard-white plastic should have changed her mind, but sadly, it didn't.
Her mouth was practically salivating at the thought of that hard-white plastic-like substance crumbling and crackling on her tongue. She opened her mouth and was just about to take a small bite to savor the questionable treat when she suddenly found herself yanked up off her knees and thrown over a large and somewhat familiar shoulder. It actually concerned her that she'd realized that her precious treat had fallen out of her hands and broken into a hundred tiny pieces on the sidewalk before it registered in her mind that she was once again being manhandled by her new boss. Before she could force her food-starved mind off her ruined meal, he was snapping at her.
"You're late!" Hunter growled as he shifted her on his shoulder.
Kylie opened her mouth to point out that she'd actually been five minutes early when he started jogging, taking away her ability to speak as she was forced to clench her teeth together and close her eyes while her empty stomach protested rather violently at being bounced around on the obscenely large shoulder.
"Since we have a minute," Hunter said, easily jogging and not sounding out of breath as she prayed that she wasn't about to lose whatever was in her stomach all over her new boss's back, "why don't we go over the rules?"
"Can it wait until-" Kylie started to suggest only to get cut off abruptly, which in retrospect was probably a good thing since talking while upside down didn't agree with her head, or her stomach for that matter, and only increased the likelihood of making a memorable first impression.
"Rule one, show up on time or don't show up at all. No excuses," Hunter said, and since she actually agreed with that rule, she didn't argue. Not that she really could put up much of an argument at that point, but she fully planned on explaining a thing or two to him once he put her down and her world stopped spinning.
"Rule number two, no bitching," he said, sounding irritated as though she'd already committed the offense and she fully planned on arguing that one later, much later, Kylie thought as she squeezed her eyes shut even harder while she prayed that she didn't pass out.
"Rule number three, I expect things done right the first time. Don't waste my time and yours with any fuckups. I won't be happy and I can guarantee that neither will you," Hunter said right around the time that Kylie decided that perhaps it would be better if she spent the next year living in her car instead of working for a man with a serious anger problem. Just when she'd decided to chance a mortifying moment by telling him just where he could stick his rules, she remembered that lovely contract that she'd been forced to sign this morning before the messenger would hand over the folder.
She could quit, but there had been a dozen clauses about quitting and termination that she hadn't had a chance to look over yet. It was normally something that would have had her declining an offer and looking for a new job, but she had been a bit preoccupied at the time with the fire quickly spreading and the SWAT team showing up. She'd admit that she hadn't really given the contract much thought at the time.
Now, however, Kylie was wondering what she'd agreed to by working for the jerk carting her around like a sack of potatoes because she already knew that there was no way that she was going to be able to-
No, she could do this, Kylie told herself before she could talk herself into doing something stupid like quitting because she could handle anything. Well, almost anything, she realized a few seconds later when he took the stairs two at a time.
Available at Amazon for $2.99 and Kindle Unlimited
Reviews for Devastated
This is the first book by this author that I have read and I can assure you it definitely won't be the last. I want to binge read all of her books, I absolutely loved it. It hooked me in from the very first page and I stayed there until the last page.
Hunter really was a bad tempted rascal, however, you could tell he was more, and I liked him, and as his character developed so did my enjoyment and appreciation of him too. He certainly had the alpha protectiveness down pat and I think it even surprised him. 😂 Kylie was a very complex character too but I instantly liked her. She truly was a battler who had such a tough time yet picked herself up and worked on her life plan with a positive approach to life. Holy moly, I want to be Kylie when I grow up! (And yes, I know, I am old enough to be her mother!)
I have to make special mention of the 'evil' characters in this book. Holy moly they made my blood boil, I am a reasonable first I feel, however, the way these characters were portrayed made me want to do something drastic to them myself, boiling them in oil perhaps? 🤷🏻‍
Although there are some very deep and serious issues explored in this story there is a fabulous element of humour. This helps to balance the darker element. This fast paced story is an extremely well balanced one that has a solid plot, there is always something happening and it is never predictable.
I thoroughly recommend this very entertaining book to everyone.
We get a sneak peek into Furious at the end and all I can say is I can't wait for Chase's story to be released.
–Robyn Corcoran
Hunter was an absolute jerk, but that didn't stop me from falling head over heels for that man. He was so rude and broody, and spent a large amount of his time trying to make Kylie mad. It backfired though, because the more Hunter pushed, the more Kylie pushed back. Hunter realized how much he respected her determination and loyalty. She was the only one of his employees not afraid to confront Hunter, and he grew to need her as much as she did him.
Although Kylie had been beaten down her entire life, she still held a spark. There was a glimmer of snark and stubbornness that lurked just below the surface. Hunter was able to awaken that fire in Kylie giving her confidence and bringing her to life.
This story was full of humor that had me laughing out loud. The back and forth between Hunter and Kylie was so entertaining to watch. It was also terribly touching watching this big, grumpy man melt and become a sweet and protective teddy bear for Kylie.
Ryan and Grey were great additions to the story and from the last chapter, it looks like we will at least (hopefully) get Ryan's story.
–Debbie
I have been reading this author's books for some time now. Her NFH series has helped me through a series of personal crises this year because I needed something that would make smile.
I was, therefore, concerned going into this this because I knew the subject matter was far more serious than the Bradfords and their food issues. But I purchased the book anyway, hopeful that I would be okay with the tone.
This is where the WOW comes in, because Ms. Mathewson blew me away with this story. She beautifully, passionately tore down Kylie and allowed her to build herself up better, stronger, and able to love. And, more importantly, able to BE loved.
This book shines with inner strength and determination, but still has enough humor to make it an all-around wonderful addition to your library.
–Annette Cooke
R.L Mathewson does it again with this Gripping, Sexy, Funny, Broody Man that I just could not get enough of!
Hunter right from the start made me never want to leave this world and I battled with how quick could I read this book greedy to get the story or how can I savour it and make it last?
I never felt so many emotions reading one book as I did with this one I Laughed, I Cried and I yelled A LOT!
Kylie lol the names this man had for her was so funny I wouldn't know whether to laugh or punch him if it were me.
Fantastic book, I cannot wait for the next one.
Would Hunter Be My Book Boyfriend? He is my book husband #Mine
–Be My Book Boyfriend
This is a great starter for a new series. I'm really enjoying the Anger Management theme. This series deals with some very real issues but still has that R.L humor we all love.
When business owner Hunter finds himself in legal trouble that forces him to make adjustments in his life. He's beyond angry and is determined to be as difficult as possible.
Kylie is excited about her new job and can't wait to start it. That all changes after the first encounter with her new boss.
These two unlikely people make up the best couple combinations. I loved challenges Hunter and Kylie faced, I also loved how they come together. This book felt very real life and I enjoyed that.
–SaraMarie Campos
Ms. Mathewson normally writes hilarious romps through romance, and this time she strayed a little towards a darker path. She handles the transition with ease and the subject matter with a delicate touch, leaving you at the end with a thoughtfulness rather than feeling covered in gore. The romance is her usual gentle build-up, slow and sweet, but between two people who have pasts that have greatly affected their present, and requiring more than the normal getting-to-know-you period. The book is done beautifully, with bits of humor and laugh-out-loud moments, periods of darker times, and a romance that leaves you cheering for a well-deserved couple. Well done, Ms. Mathewson, for a five star read!
–Jo Denson
I loved this book. Hunter and Kylie have been through so much individually, and finding each other makes it easier to heal. They are a really sweet, hot love story (believable, too!) and I really cannot wait for the next in the series! I've been a big R L Mathewson fan for about 10 years. I wish her output was higher, but given how much I have loved every one of her books, I'm happy to take quality over quantity. Her characters are relatable and funny, and I always fall a little bit in love with them whenever I read a new book.
–Bronwen
Normally I hate when authors try something new but this one was a definite success in my book. It kept the elements from other books that made me a fan to begin with while also adding new real world elements in a way that you'd recognize and empathize with while still being able to escape to a happy ending we don't always get in reality. I'm looking forward to the rest of the series and I'm more than happy that R.L. took this chance.
–Amazon Customer
Her heart was put into this book! It shows through and through. To be completely honest – by description alone I wasn't super excited for this one. I love the hilarity of the neighbor from hell series and wasn't sure I wanted to dive into something of a more serious nature. But RL did it PERFECTLY! She balanced the important and serious topics with some natural humor and characters that are full of layers you have the chance to dig through. Thank you for this new well balanced series! Cannot wait to keep moving forward with the next!
–Meg
I like this series so far, it's still got the devotion that I really like from both sides. Both male and female MC are good to each other, there's no cheating which I love. The story is compelling without too much drama between Kylie and Hunter. Even though it dealt with a more serious subject than this author usually does, there's still a sense of humor mixed into it as well, that made it even more relatable and enjoyable. I loved this book, and I'm crossing my fingers that this means we'll get more of the NFH and Pyte/Sentinal books soon!
–Meganh4133
New York Times Bestselling author, R.L. Mathewson was born in Massachusetts. She's known for her humor, quick wit and ability to write relatable characters. She currently has several paranormal and contemporary romance series published including the Neighbor from Hell series.
Growing up, R.L. Mathewson was a painfully shy bookworm. After high school, she attended college, worked as a bellhop, fast food cook, and a museum worker until she decided to take an EMT course. Working as an EMT helped her get over her shyness as well as left her with some fond memories and some rather disturbing ones that from time to time show up in one of her books.
Today, R.L. Mathewson is the single mother of two children that keep her on her toes. She has a bit of a romance novel addiction as well as a major hot chocolate addiction and on a perfect day, she combines the two.
In 2019/2020, R.L. Mathewson will be publishing Devastated, the first Anger Management novel, Tall, Dark & Furious, the 6th installment to the Pyte/Sentinel series, Irresistible, the long anticipated novel for the Neighbor from Hell Series as well as many more books throughout the year, paranormals, contemporaries, and YAs.