Daddy's Little Girl: Part VIII & The Latest News About Devastated
Daddy's Little Girl
Part VIII
An R.L. Mathewson Chronicle
&
The Latest News About Devastated
(By popular demand by the wonderful readers at the Neighbors from Hell group, we are doing one more Chronicle for this series)
"There's no reason to panic," Mikey said and if she hadn't said that as her legs gave out, he probably would have believed her.
"Oh, that can't be good," Cole said, rubbing his trembling hands down as his face as he stared down at Mikey while Jonathan, who'd decided to come help them after he'd spotted them walking to the baseball field on his way home, mumbled, "There's so much blood."
"I'm fine," Mikey said, nodding to herself as Sebastian carefully lowered her to the ground.
"And all this blood?" Sebastian asked, looking paler by the second as Trevor knelt by her side and took a closer look at her temple and decided that a trip to the emergency room was definitely in order.
"Is she dying?" the boy that she'd made cry only a few minutes earlier asked, shifting nervously.
"I'm dying?" Mikey asked, sending him a worried glance.
"You're not dying," he reassured her.
"Are you sure?"
"Yes, I'm sure," he said, pulling off his shirt so that he could press it against her forehead.
"Then why is that boy praying?" she asked, pointing a finger at Cole, who was now mumbling, "Oh, God…Oh, God…Oh, God…"
"How many fingers am I holding?" Sebastian asked, holding two fingers up.
Blinking, Mikey asked, "Who are you?"
"Oh, that can't be good," Jonathan mumbled.
No, it definitely couldn't…
"Call 911," Trevor told Cole as he carefully pressed his shirt against Mikey's forehead.
"Oh, God…Oh, God…Oh, God…" the other boy that Mikey had made cry started mumbling incoherently as they stared in horror at something to his right. Frowning, Trevor looked over his shoulder and started to say a few prayers of his own when he spotted Reese coming their way. When the boys ran, and he really couldn't blame them, he shifted his attention back to Mikey to find her crying.
"What the hell happened?" Reese demanded as he knelt down next to Sebastian and took Mikey's small hand in his.
With a sniffle, Mikey raised her hand and pointed a damning finger towards the tree. "He stole my ball."
"She tried to tackle a boy twice her size, misjudged the distance and hit the tree," Trevor explained, reaching over with a sigh and gently grabbed the top of her head to stop her from shaking it.
"The tree jumped out at me," Mikey said, giving up on trying to shake her head to start nodding.
"Stop moving, sweetheart," Reese said softly for Mikey before saying in the coldest voice that he'd ever heard, "You were supposed to be watching her."
"I put her on the picnic table and told her to keep her butt on the bench while I dealt with those three," Trevor said, releasing Mikey's head so that he could gesture towards the boys.
"We were doing our job," Cole said firmly even as he sent Mikey an apologetic glance.
"I heard," Reese said, sighing as he gave Mikey's hand a reassuring squeeze as the sounds of sirens reached them.
"How are you doing, baby girl?" Reese asked as he leaned over and kissed her cheek.
"You know what I've been thinking, Daddy?" Mikey asked, pursing her lips up.
"What's that, sweetheart?" Reese asked with a soft smile as he sat up.
"That the Red Sox are a better team than the Yankees," she said, looking lost in thought as Reese slowly, so fucking slowly, looked up at him and said, "Run."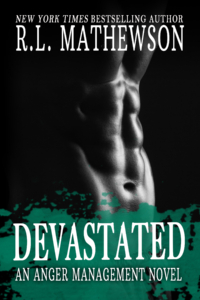 Bestselling author R.L. Mathewson takes on the impossible with the Anger Management series.
For readers who love to see someone who's been to hell and back finally get their happy ending.
Sometimes you have to go through hell to get what you want…
Everyone has something in their past that they'd like to forget, but for Kylie Davis there's no escaping her past. It followed her everywhere, determined to destroy her, and to make sure that she paid for the one thing that her family could never forgive her for.
Being born.
The last thing that Hunter O'Mallery needed was an assistant, but thanks to the deal that he never should have made, he has one. As long as she stayed out of way, he would have been more than happy to leave her alone, but now that she's caught his attention, he couldn't stop thinking about her. She intrigued him, drove him out of his mind, and he'd do anything to save her.
Coming October 25th.

Available Now for Preorder at: