Who the F#ck is Trace?
Dear Reader, 
I didn't have time today to write a Chronicle because my son hurt his finger in the middle of the night. Looked fine last night, by early this afternoon, we were racing towards the door. It was a good time. Swelled up pretty badly, dark purple bruising, etc. the works. Thankfully it's just a really nasty sprain. 
I wasn't planning on coming on here tonight because the 12 yo is now bossy, lol, but I saw that another reader was asking about Trace and since he is the main character of Tall, Dark & Furious, I thought it would be a pretty good idea to explain who he is.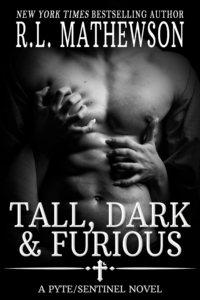 Okay, so Trace is new to the series. His father is Ethan, who you met very briefly in Tall, Dark & Heartless. He is the vampire that Caine contacted to get information about Pytes so that he could help his mate. Trace is his son that went missing centuries ago and has never stopped looking for. 
Trace is a Pyte and brand new to the series as is his mate. With that being said, Kale plays a very important part in this book and you will get to see the others as well. Jill and Joshua are in this book as well. You will get more information in this book, more answers and a better sense of where the series is heading. 
Kale's book will be next in the series followed by Ethan. Trust me, after you read this book you will want Ethan's story soon, hopefully 🙂 For the next three books, you will have characters that you already met. Trace was a vital part of this series that needed to be brought in now. 
With that being said, I hope you enjoy is book and if you have any questions, you can reach me at Rlmathewson25@gmail.com
R.L.