Thanksgiving Negotiations
An R.L. Mathewson Chronicle
"No," Lucifer said, not bothering to look up from the iPad on his lap as the small woman that loved tormenting him more than anything climbed onto his desk. Rebecca didn't say anything as she shifted to get comfortable, letting him know that she was still trying to figure out how she was going to pull off whatever her devious mind had conjured up.
That was fine with him.
More than fine…
Normally, his incredibly beautiful wife used a few whispered promises to wrap him around her little finger, but when she had no idea where to start, those times always ended with him struggling to catch his breath while his wife sleepily mumbled her demands against his chest. Knowing how this was going to end, Lucifer bit back a smile when Rebecca plucked the iPad out of his hand and placed it on the desk next to her as he looked up, more than ready to help his wife bring him to his knees and-
Found himself wondering why Mikey was climbing onto the desk next to his wife. Frowning, Lucifer watched as Zoe climbed onto the desk on Rebecca's other side while Kasey climbed onto the desk next to Mikey before Haley moved to join them, realized that there was no room, sighed heavily, turned to him, and after reaching up to push her glasses back up her nose, gestured for him to move.
Shifting his glare to his wife to find her blinking innocently at him, Lucifer stood up and leaned back against his office wall so that Haley could take his seat with a mumbled, "Thank you." With an absent nod, Lucifer took in the small group of women watching his every move before his gaze flickered to the couch, where Sebastian sat with his iPad on his lap and waited.
"They're trying to intimidate you into letting them use the Fire & Brimstone for Thanksgiving," the teenage boy explained, taking pity on him.
"I see," Lucifer murmured absently as he shifted his gaze back to the small group of women watching his every move and took his time studying their expressions, noting that none of them looked particularly upset that Sebastian told him about their plans, which meant…
"We've actually already decided that we're using the Fire & Brimstone," Rebecca informed him, shrugging it off as Lucifer shifted his gaze over the women watching him, looking for the weak link in the group.
He started with Zoe to find her frowning down at something on her phone before he shifted his gaze to his wife to find her once again doing her best to look innocent. When he continued staring at her, waiting for her to break, she mumbled, "This is just sad," with a heartfelt sigh that had him moving onto Mikey to find the teenage girl that he adored, mostly because she loved tormenting his brothers and cousins, shifting her legs so that she could lean over and open his desk drawer and help herself to the baseball that he kept there for her.
Once she had the ball rolling between her hands, Mikey shrugged as she said, "It's not me," correctly guessing what he was looking for. Since he had to agree, he moved on to Kasey to find her frowning down at his iPad, reading the recipe that he'd been working on before his gaze moved onto Haley, who was pushing her glasses back up her nose, looking adorably innocent before he slowly nodded and focused all of his attention on Zoe.
Shifting nervously, she swallowed, cleared her throat, and said, "It isn't me?" sounding more like a question and confirming his suspicions that she was the weak link in the group.
"What isn't you?" Lucifer drawled, folding his arms over his chest as he considered the small woman struggling not to wince.
"I'm not the weak link?" Zoe said, once again making that statement come off as a question and letting him know that his wife had given her a pep talk, which only confirmed his suspicions.
"Stay strong," Rebecca whispered, her gaze never leaving him while he stood there, resigned to standing there, staring at his cousin's small wife while he waited for her to break.
"This really isn't going to work for me," Kasey murmured absently with a sad shake of her head as she climbed off the desk and headed for his office door and, most likely Fire & Brimstone's kitchen, where she would spend the next few hours perfecting his recipe and-
"What the hell is that?" Lucifer asked, frowning as he scented the air, noting the incredible aroma of apples and cinnamon suddenly permeating the air.
"Aunt Necie got distracted by the kitchen on the way to your office," Sebastian informed him, sounding bored as he swiped to the next page and settled back against the couch.
"And she's the weak link?" Zoe informed him, going for a firm nod that she really couldn't fucking pull off.
"Is she, now?" Lucifer murmured, watching the small woman that was moments away from breaking.
"Yes?"
"Shouldn't you be focusing on me?" Rebecca asked, doing her best to save the small woman struggling not to break.
"In a minute," Lucifer murmured, knowing that whatever they were up to that his wife was definitely behind it.
He-
"I'd be willing to tell you," Mikey said, only to add, "For a price, of course," making his lips twitch.
"What will it cost me?" Lucifer asked, still focusing all of his attention on Zoe, who'd gone from struggling to stop squirming to throwing wistful glances at his office door.
"Wouldn't this make her the weak link?" Haley asked, trying to save her friend, which was interesting, Lucifer thought.
"Dinner at the Fire & Brimstone," Mikey said, only to add, "That just went without saying," when Sebastian said, "For two."
"That's all?" Lucifer asked, beyond fucking suspicious especially since the teenage girl that loved baseball more than life itself hadn't thrown in playing catch with her, something that she bugged him to do every chance she got, which, of course, made him curious.
After watching the small woman trying for a hopeful smile, Lucifer slowly turned his attention to the small teenage girl doing her best to appear innocent. "Dinner? That's it? You don't want to play catch out back?" he asked, watching as Mikey went still as her gaze slowly turned calculating as she glanced down at the ball in her hand, then at Rebecca, who was glaring at her as she mouthed, "Don't. It's a trap," and then, finally, she looked back at him, watching him as she debated her next move.
"I didn't bring a glove," Mikey pointed out as she narrowed her eyes on him.
"I have plenty," Lucifer reminded her.
"I see," Mikey murmured, sounding thoughtful as she watched him for another moment before slowly nodding as she opened her mouth and-
"I knew you'd break," Sebastian said, sighing heavily as he slapped his hand over her mouth as he wrapped his arm around her and dragged her off the desk and towards the door, ignoring Mikey's muffled demands to be released.
Once she was gone, Lucifer shifted his attention back to the trio watching him and-
"Just tell me how badly you're about to fuck me over," Lucifer said on a tired sigh as he gestured for his wife to get on with it.
"I suppose I could do that," Rebecca said, nodding before she cleared her throat and-
"We want to cook Thanksgiving dinner," Zoe blurted out, taking him by surprise.
"Let me see if I understand this," Lucifer murmured as his gaze flickered to Zoe to find her once again sending a wistful glance at the door where her son had been forced to drag his best friend through a few minutes ago, "you want to host Thanksgiving dinner for everyone here and you want to help cook dinner?"
He didn't see the problem since they'd been using the Fire & Brimstone for Thanksgiving and Christmas dinner for the past two years. He also didn't have a problem with them helping make Thanksgiving dinner since he could use some help with prep. Since no one had brought up Thanksgiving before, he'd just assumed that they were having it at his mother's house, but this worked out better for him since he could make sure that everything was organized and-
"Not help," Haley added.
"We want to cook," Zoe said, making his eyes narrow on the small woman before shifting to his wife as she said, "And you're banned from the kitchen."
Nodding slowly, Lucifer said, "Get out," to the two small women as he kept his gaze locked on his wife.
"Sorry, that's not going to-Where the hell are you going?" Rebecca demanded as the two women she'd been counting on to save her made a run for it.
"Sorry!" Zoe yelled over her shoulder as she stumbled into the hallway as Haley threw over her shoulder, "You're on your own!"
Shaking her head in disgust, Rebecca said, "I should have seen this betrayal coming," as Lucifer pushed away from the wall and made his way to the door.
"Yes," he said as he closed the door and flipped the lock, "you should have."
©Rerum Carta Industries, Inc. 2022. All Rights Reserved.
Excerpt from Another Christmas from Hell
A Neighbor from Hell Novel
"You were always following me," Bryce bit out as he followed her inside.
"Is that…is that Bryce?" Sean asked, sounding intrigued. "Do not hang up the phone, woman!"
"When?" Cayley found herself asking, unable to help but frown as she struggled to figure out what the hell he was talking about.
"When we were kids, you followed me everywhere. You were always at the house," Bryce said, looking incredibly pissed as he glared at her over the kitchen island.
"Because your brother wouldn't stop dragging me over there," Cayley said, unable to help but wonder where he was going with this.
"I really wouldn't," came the heartfelt sigh from the bastard that was going to pay for this.
"You followed me to school every day," Bryce said, folding his obscenely large arms over his chest while he glared at her, daring her to argue with him.
"We went to the same school. How the hell was I supposed to get there?" Cayley asked with a helpless shrug.
"You were always trying to hold my hand," he bit out between clenched teeth.
"Yeah, when I was six and wasn't allowed to cross the street by myself."
"You always made it a point of sitting next to me at dinner."
"Because that was the only empty chair at the table?" Cayley said, reaching up to rub her temple as she felt a headache coming on.
"Why did you show up at every job site I went to after school?" Bryce demanded.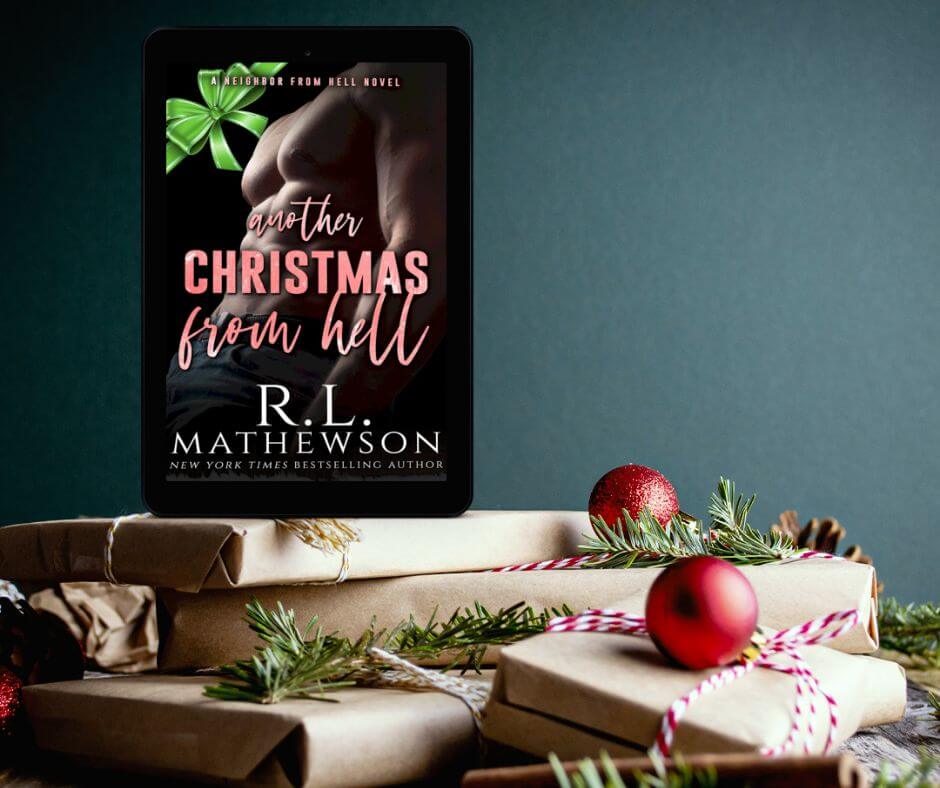 "Because your annoying little brother threatened to put snakes in my bed if I didn't bring him baked goods from my aunt's bakery every day," Cayley snapped, deciding that she was going to need caffeine to get through this asinine conversation.
"I really did," Sean murmured, sounding quite pleased with the direction this conversation was headed while Cayley began searching through her refrigerator for a Coke.
"Then explain why you're renting the apartment across from me and why we're now working at the same job," came the demand as Cayley frantically searched through her fridge for her much-needed caffeine fix only to resign herself to making another trip to the store.
"Because the jerk face that I'm really wondering why I'm friends with got me evicted over an order of chicken tenders and got me fired on the same day because he can't keep his dirty little hands to himself and left me with no choice but to beg your brother-in-law for a job and a place to stay," Cayley snapped as she closed the refrigerator door.
There was a heartfelt sigh, and then Sean was mumbling, "Memories."
Grumbling, and really wondering why she was friends with the big jerk that was making her life a living hell and couldn't keep his greedy little hands off her Coke, Cayley grabbed a pen off the counter and made her way back to her kitchen island, where she wrote "Find a new BFF" on her to-do list.
"You better not have done why I think you just did," came the warning that had her smiling.
"Oh, but I really did," Cayley said, angrily slamming the pen down on the kitchen island and-
Suddenly found herself cornered by a very large and very angry James brother.
"You're in love with me," Bryce said, placing his hands on the counter on either side of her and caged her in as he glared down at her.
Blinking, Cayley asked, "How are you getting that from what I just said?"
"Because he's crazy," came the murmured whisper in her ear that had her rolling her eyes.
Keeping his eyes locked on her, Bryce plucked the phone out of her hand and ended the call before placing the phone on the counter.
"You're always watching me," Bryce bit out.
"Because you're always glaring at me," Cayley pointed out.