Tall, Dark & Furious and Irresistible Are Now Available for Pre-Order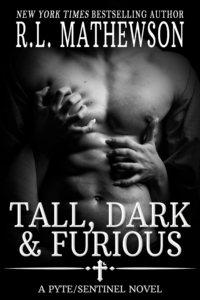 Tall, Dark & Furious
Coming December 26, 2019
From bestselling author R.L. Mathewson comes the sixth installment of the Pyte/Sentinel Series…
For readers who enjoy paranormal romance with a twist.
For three centuries, Trace waited for this moment, imagined all the things that he would do to the Pack that tried to kill him, and now that he was free…
All he could think about was the woman that he'd claimed as his own. She was everything that he'd always wanted and once he had his revenge, he would make her his.
Sam had resigned herself to a lot of things over the years, being the town joke, blacking out at inopportune moments, and living with a dog that hated her, but what she hadn't planned on was suddenly finding five large men destroying her basement, looking for a tomb that she never knew existed. In one moment, her life changed forever, leaving her to wonder how she was going to make it out of this alive.
Amazon ♦ iBooks ♦ Kobo ♦ Barnes & Noble ♦ Smashwords.com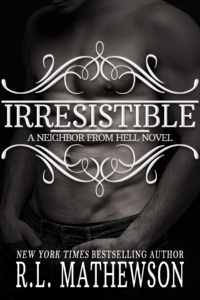 Irresistible
Coming February 4, 2020
From bestselling author R.L. Mathewson comes the long-awaited Neighbor from Hell Novel…
Irresistible.
There weren't many things that Aidan regretted, but that night he'd spent with the woman that he couldn't stop thinking about was definitely one of them. He'd always been careful, always did the right thing, and now…
Now he had to figure out a way to fix this before it was too late.
Melanie still couldn't figure out how one night could change the rest of her life. She should have done a lot of things differently that night, she should have turned him down, should have spent the rest of the night wallowing in self-pity, but that's not what happened and now, she needed to figure out how she was going to survive this pregnancy with a Bradford doing everything in his power to make her fall in love with him.
Amazon ♦ iBooks ♦ Kobo ♦ Barnes & Noble ♦ Smashwords.com