Sample of Unstoppable
Coming October 3, 2021
Revenge and fate come together in the seventh installment of the Pyte/Sentinel Series as New York Times bestselling author R.L. Mathewson tells the story of how one of the deadliest shifters in our world is finally brought to his knees.
He couldn't kill her.
Their mating mark would never allow it, but it would allow him to walk away and never look back. But that wasn't a choice, not when Kale knew just how dangerous his mate could become if she ever lost control. His plan is simple, keep her safe, out of his way, and focus on the only thing that mattered. He didn't need her, didn't want her, and…
He couldn't stop thinking about her.
No matter how many times Kale tries, he can't stay away from her and god, does he try. With a bounty on his head and shifters, demons, and vampires doing everything they could to find him, the last thing that Kale needs is to fall in love with his mate.
This wasn't supposed to happen.
No one was supposed to find her. At least, that was the plan, but somehow the incredibly sexy shifter that loved to glare had found her and now…
She was finally where she belonged.
The only problem was, Ashley had no idea why, but she wasn't going to complain. Not when things were finally making sense. What she was going to do was pretend that the shifter that hated her didn't make her want things that she couldn't have. She just needed to lay low, pretend that she had no idea why anyone would be after her, and hope that her secrets didn't tear them apart.
Click the image below for a sample of Unstoppable: A Pyte/Sentinel Novel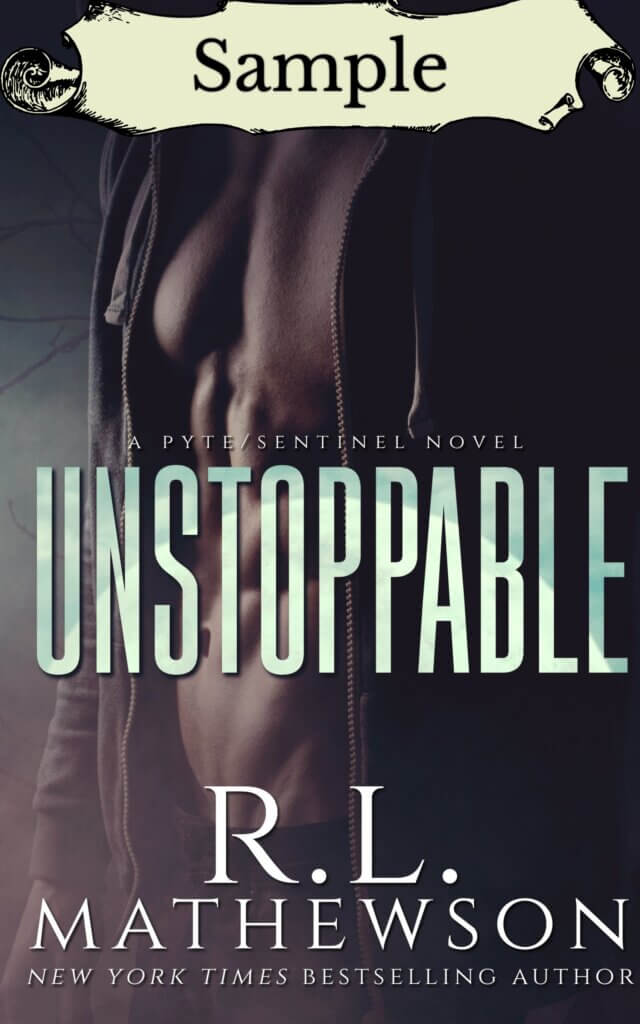 Dear Reader,
So that the book doesn't have to go through a long delay, there will be no preorder for this book. Right now, the goal is to release it on October 3rd, but…
As soon as it's done. It's done.
When it's all set and we know it's live, I will let everyone know through Facebook Twitter, and of course, here, but the best way to find out about releases is through the R.L. Mathewson Newsletter. This time around I will also be providing a series guide for those of you who have not read the Pyte/Sentinel series in a while and don't want get lost that will be made available at the time of release. That will also be available through the newsletter along with the bonus epilogues that I couldn't put at the end of the book because they would have taken away from Kale's story.
If you'd like to read the sample of Unstoppable, you can do it, here.
If you have any questions, please let me know.
R.L.