Rory's Hot Chocolate Recipe
Over the past few years, I've received a lot of requests for this recipe. I placed in Checkmate: A Neighbor from Hell novel, but I didn't really go into how to pull this off to make sure that the cocoa was creamy.
So, why don't we do that now?
Rory's Hot Chocolate Recipe
Things you're going to need…
Hot chocolate mix, I prefer the generic brands because it has more fat in it and gives it a better taste. I'm not really a big fan of Nestle or SwissMiss simply because it taste super sweet to me.
Water.
Fluff, if you're not into it, it's fine, but it does help with the flavor and it makes it creamier.
A creamer, whether it's heavy whipping cream or a coffee creamer. I like both. The creamer makes it smoother, gives it a nice creamy taste. The powdered stuff will give it a creamy taste as well, but it takes more work to mix it. However, the powdered stuff allows your hot cocoa to stay hot while the heavy cream will cool it considerably. You can use milk, but it will be thinner and I'm just not a fan out of it.
Chocolate, whether it's a few pieces of a candy bar or some chocolate melts. Again, I like both. I've put Lindt chocolate, Godiva, Belgium, and Nestle chocolate in my hot cocoa, but I prefer a few pieces of Hershey chocolate or a few melts.
Step 1:
Boil your water.
The hotter, the better.
Step 2:
Prep your cup.
I like to use a big cup because there is a lot of stirring and a lot of ingredients, so the bigger, the better.
For a big cup, I put in 5 heaping spoonfuls of the cocoa mix.
Then I add my creamer.
For liquid, I like to add just enough so that it's at ice cream consistency. Thick, but not hard.
For dry, I'll add 2 big spoonfuls.
Mix.
Now I add a big spoonful of fluff, add that to the cup and mix again until it's completely blended. For powder, it's going to be a lot of work, but mix until it's all combined. I usually add a little bit of creamer to make it easier for myself.
Now that your base is mixed, add your broken up pieces of chocolate.
Wait.
Step 3:
Your base is creamy, mixed, and waiting. As soon as the water is boiling, and you really want it be boiling, add the water to your desired level. I fill it up. You will need hot water to help break this mixture down and melt the chocolate.
It's going to look like a mess for a few seconds, but keep mixing until every little clump is gone. Doesn't usually take very long and once you're done mixing…
Enjoy your cup of hot chocolate!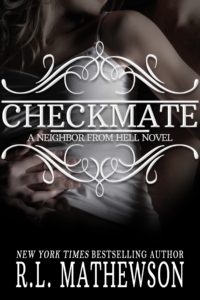 There's nothing worse than living next door to your childhood nemesis, except maybe being forced to share your dream project with him, being blackmailed into going along with something that was just wrong on so many levels, and having your hot cocoa stolen by the person that drove you to drink it in the first place.
As long as she has plenty of hot cocoa, a pair of pliers on hand and is able to resist Connor O'Neil's bad boy charm then Rory James should be able to make it through this project with her sanity intact. If not…..
She'd probably face a few more nights in jail, have a few more restraining orders slapped against her and lose her heart to the man that ruined her life.
Amazon ♦ iBooks ♦ Barnes & Noble ♦ Kobo ♦ Smashwords.com