Maternity Leave
Part V
An R.L. Mathewson Chronicle
"She's going to kill you," T.J. said as Devin threw his truck in park.
"She has bigger problems to deal with at the moment," Devin reminded him with a satisfied sigh, wondering why he didn't think of this sooner.
For the past few months, he'd been trying to get Charlie to take it easy, but his wife was incredibly stubborn and refused to listen. She was determined to keep working until the last minute, and that just wasn't going to work for him. He wanted his wife off her feet and relaxing, but Charlie had other plans. She wanted to do everything that she could to ensure Dabbi Digital Marketing's success and while he could understand that and would do everything within his power to keep her dream alive, he needed her to start listening to the doctor.
His cousin Aidan told her that she needed to take it easy a few months ago, but his stubborn wife decided that meant that she could put in extra hours as long as she spent them on the bean bag in their office with an endless supply of jelly donuts by her side. That just wasn't going to work for him. So, Devin had spent the last few months trying to convince his stubborn wife to work from home, but she wouldn't listen. So, he did the one thing that he promised himself that he would never do.
He told his cousin Lucifer that the nursery hadn't been organized yet and just in case Charlie managed to talk her way out of that, he'd casually mentioned that her home office could really use a better filing system. He knew that once Lucifer saw that she had been mixing her black and red pens in the same cup that he would tear her office apart, ensuring that she wasn't going anywhere for at least a week and that's all he needed. Once he was able to-
"Isn't that your cousin Aidan's car?" T.J. mumbled absently, making him frown as his gaze shifted to the black SUV in his driveaway and-
Shit!
There was only one reason why his cousin would show up at his house in the middle of the day and that reason had Devin sitting there, trying to remember how to breathe.
"Are you okay?" T.J. asked, frowning as Devin swallowed hard as he reached over and fumbled with the door handle while he tried to tell himself that everything was fine.
He just…he just…
"I think I'm going to be sick," Devin mumbled hollowly when he finally managed to open his truck door and climbed out only to end up grabbing on to the door when his legs threatened to give out and drop him on his ass.
He was fine.
More than fine, he kept telling himself as black spots began dancing along his vision and he found himself dropping to the ground where he focused on not passing on. He'd already been through this before with the twins, Devin reminded himself, but no matter how many times he told himself that he couldn't stop thinking about Charlie screaming in pain.
"Devin?" T.J. said, coming to his side.
"I'm fine," Devin said, trying not to think about the most terrifying minute of his life.
The moment that Dustin was born.
Waiting to hear his son cry had been the longest fucking minute of his life. Christ, he wasn't sure that he would survive going through that again, Devin thought as he struggled to get back to his feet. He needed to get to Charlie, he told himself, knowing that he couldn't leave her to go through this alone. He-
"You don't look so good."
-really just needed to lay down for a minute.
---
Unstoppable: A Pyte/Sentinel Novel
Paranormal Romance with incredibly hot shifters and vampires.
Secrets that threaten to destroy everything.
Humor guaranteed to make you smile.
Enemies to lovers.
Sexy Shifter that will stop at nothing to protect his mate
Sexy Alpha male that loves to glare.
Unwanted Mate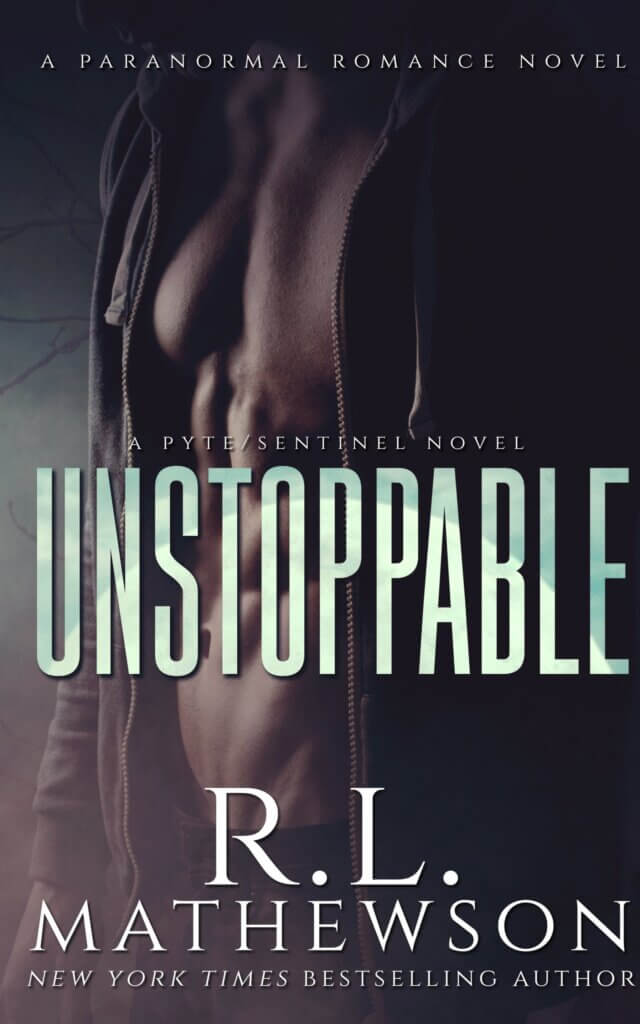 Revenge and fate come together in the seventh installment of the Pyte/Sentinel Series as New York Times bestselling author R.L. Mathewson tells the story of how one of the deadliest shifters in our world is finally brought to his knees.
He couldn't kill her.
Their mating mark would never allow it, but it would allow him to walk away and never look back. But that wasn't a choice, not when Kale knew just how dangerous his mate could become if she ever lost control. His plan is simple, keep her safe, out of his way, and focus on the only thing that mattered. He didn't need her, didn't want her, and…
He couldn't stop thinking about her. 
No matter how many times Kale tries, he can't stay away from her and god, does he try. With a bounty on his head and shifters, demons, and vampires doing everything they could to find him, the last thing that Kale needs is to fall in love with his mate.
This wasn't supposed to happen.
No one was supposed to find her. At least, that was the plan, but somehow the incredibly sexy shifter that loved to glare had found her and now…
She was finally where she belonged.
The only problem was, Ashley had no idea why, but she wasn't going to complain. Not when things were finally making sense. What she was going to do was pretend that the shifter that hated her didn't make her want things that she couldn't have. She just needed to lay low, pretend that she had no idea why anyone would be after her, and hope that her secrets didn't tear them apart.
Now Available