Delectable is Almost Here
Delectable's release is right around the corner, so I'm going to release an excerpt for this week's Chronicle as well as a reminder about the iPad giveaway that you can find on this website and at my Facebook page. I also have a giveaway going at FB and at Twitter where you can win a $50 gift card to iTunes or Amazon, six being given away.
With that, I hope you enjoy Reese's book as much as I enjoyed writing it. It took six years, a lot of sleepless nights, and Reese's peanut butter cups to ensure that this book is exactly the way that I wanted it.
Enjoy!
An Excerpt from Delectable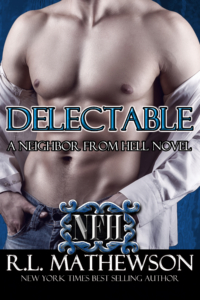 "Mom?" Mikey said loudly when it should have been more than obvious that this was a conversation that required whispering.
"Is he still here?" Kasey whispered through the keyhole, telling herself that it was perfectly normal for a grown woman to hide in her bedroom for two hours in order to avoid the man that had called her delectable.
"Who? Reese?" Mikey asked loudly, making Kasey wonder where she'd gone wrong.
"Yes! Reese!" she whispered harshly, shifting to get more comfortable, but after two hours of kneeling on the thin rug she was running out of positions.
"He's in the kitchen fixing the sink," she said, sounding like she had a mouthful of food.
"What are you eating?" she asked, shifting back into a sitting position and leaned back against the door.
"A burger. Reese made me lunch."
"He made you lunch?" she asked, genuinely surprised.
"Yeah, he asked me to ask you if you wanted one," Mikey explained, making Kasey frown.
"But, you didn't ask me," she pointed out, not that she wanted one, she did, but still…
"I already told him yes."
"Then where's my food?" she demanded with a sad shake of her head, because the room service in this place was horrible.
"At the table," Mikey said, making her close her eyes and bite back a whimper, because there was no way that she was going out there and facing him after he'd seen and touched…things.
"I'm not hungry," she muttered pathetically as she resigned herself to eating the Tic Tacs in her purse.
"They're really good," Mikey groaned around another bite of what she was assuming was a burger.
"I'm not hungry," she said, forcing the lie.
There was a slight pause and then, "So, I can have your burger?"
"No!"
"But, you said-"
"I don't care what I said! Don't touch my burger!" she said with a huff as she crossed her arms over her chest with a grumble.
"Fine," Mikey said with a heavy sigh. "But, you should probably come out here soon."
"I can't."
"Why?"
"I just can't!"
"O-kay," Mikey said, stretching out the word while Kasey sat there, well aware that she was pouting and not really giving a damn, not when her burger was getting cold and she was forced to hide in her own house. "Then where should I tell him to put the sink and the cabinets that he destroyed?"
"What?" she yelled, quickly getting to her feet and yanking the bedroom door open.
© Rerum Industries, Inc. 2017. All Rights Reserved.