Black Heart is now available for Pre-Sale at the iBookstore
Black Heart: A Cursed Heart Series novel is now at iBookstore as a pre-sale item for $2.99.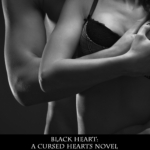 The tentative publishing date for this novel is June 22, 2013.
I would like to thank iBookstore for all their support and help doing this. I really appreciate it and all the great support I've gotten over the years. Thank you to Smashwords.com for excellent support and quality service.
Black Heart is the first in a new paranormal series that I've actually been working on for a few years now. During my medical leave I started toying with it once again and decided that it was time to finish the novel.
I will be returning to the Pyte/Sentinel series and the Neighbor From Hell series as soon as this book is published. Thank you everyone for all your support during this time. My family and I are very grateful, thank you.
-R.L.