Another Christmas from Hell Giveaways
Dear Reader,
For the first time in a very long time, I am happy to say that we have paperbacks for the next release!
I shared the announcement on FB this past week and I have to say, this book is incredibly beautiful 🙂
With that being said, this also means that we get to do something fun with the paperbacks…
It's time for a giveaway!
Or two…
I have set up TWO giveaways, both will give you a chance to win 1 of 5 signed paperbacks. They both end October 31st and winners will be chosen at random. Open to everyone over the age of 18 years of age.
The first giveaway is for readers who have preordered the book. You simply fill in the form, put in your information, which will NOT be shared or used in any way without your permission, upload your screenshot of your proof of preorder, double-check your information and you are all set!
The second giveaway is open to readers who join the R.L. Mathewson Newsletter.
To Enter, simply click on the links below!
Good luck!
R.L. Mathewson
Excerpt from Another Christmas from Hell
This was starting to get creepy, Cayley thought as she sat there, sipping her Shirley Temple as the man that had been watching her all day sat down on the other end of the bar and-
Continued watching her.
She should probably be concerned about that, but since she was used to Bryce glaring at her, Cayley shifted her focus back to the list that she was working on, determined to prove the big jerk that stole her lunch out of her desk wrong. She was fine on her own. More than fine, in fact. And, to prove that she was fine, she came to this lovely bar to work on her list alone.
She was going to come up with a plan that proved beyond a shadow of a doubt that she was more than capable of being alone and what better way to do that than around the holidays? She'd start with Thanksgiving, which was in two days and enjoy a lovely Thanksgiving dinner home alone. She would follow that up by putting up the Christmas tree she bought at a yard sale a few years ago the following day, starting a new tradition, decorate it, bake cookies, and do all the Christmas-related activities leading up to Strawberry Manor's annual Christmas party and when she was done…
She was going to rub it in the big jerk's face, Cayley thought with a satisfied sigh as she took another sip of her delicious beverage, only to once again find herself wondering why Bryce was still watching her. After more than twenty years, Cayley was used to him glaring at her, but this wasn't glaring. The way that he watched her was…determined and, admittedly, starting to concern her.
She definitely preferred glaring to this, but at least he hadn't brought up that nonsense about being in love with him again. That was something, Cayley thought as she watched a beautiful blonde woman wearing a black cocktail dress approach him. She still wasn't sure why he thought that she was in love with him, especially since she never went out of her way to spend time with him, mostly because of that whole glaring issue that he seemed to have going on.
There was no question that he was handsome. All the James boys were, but she'd always secretly thought that he was the best-looking James brother. She'd made the mistake of admitting that to Sean once when they were little, which had resulted in her being trapped in his attic until she took it back. All the James boys had similar features, dark hair, large builds, and intense green eyes, but there was just something about Bryce that made her…wonder why she was even thinking about him.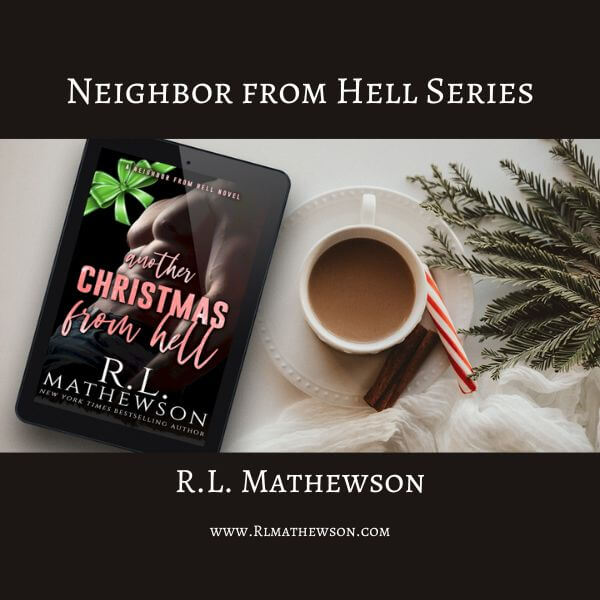 The last thing that he wanted was to fall in love with his brother's best friend.
From New York Time's bestselling author R.L. Mathewson comes the next installment in the disturbingly funny romantic comedy series, Neighbor from Hell.
It was time to move on.
Granted, Cayley would have preferred to wait until after Christmas, but with her best friend somehow managing to get her fired and evicted in the same day, she had no choice but to move into the apartment across from the man that really didn't seem happy to see her.
That was fine.
More than fine because if she could handle her best friend making her life a living hell and an ex-fiancé that was determined to get her back, then she could handle the man that was willing to do whatever it took to let the past destroy them both.
He couldn't believe this was happening again.
For years, Bryce had been going out of his way to avoid Cayley, hoping that she would finally move on, but now that she was back, one thing was painfully clear…
This was going to be the worst Christmas ever.
Available for Pre-Order Now