A Day in the Life Of... PartIII
The content in this Chronicle and on this website is intended for adults, 18 years and older.
A Day in the Life of…
Part III
An R.L. Mathewson Chronicle
"Yeah, no, that's not happening," Jen said with a slow shake of her head as she glanced from the man who had clearly lost his mind to the pitch-black storage room behind her and…
Yeah, this wasn't going to happen.
"It was your idea," Matt pointed out as he gestured with the jelly donut that he'd helped himself to for her to move her ass in get in there.
"Which means that I've done my part," she explained with a shrug as she plucked the donut out of his hand and took a bite as she gestured for him to go for it.
Eyes narrowing on her, Matt reached over, plucked the rest of the donut out of her hand, shoved it in his mouth as he gave her a gentle push towards the dark room that she was never going near. With a sigh, Jen stepped around him only to find him blocking her path.
"Don't tell me you're scared," he said as he reached back and pulled the small flashlight that he really thought was going to make her feel better about going into that room and held it out to her.
Blinking, Jen said, "Of going into a dark room with only one way in and out and no way of knowing if there's a serial killer waiting in there to mutilate my body? Yes, yes, I am."
Eyes narrowing on her, he said, "Get in there or you're fired."
"You can't fire me," she felt obligated to point out, mostly because she'd just ignore him again.
"I can make you wish that you'd never been born," Matt said, making her lips twitch because he was just so damn cute sometimes.
"I'm not going in there," Jen said with a sad shake of her head as she gestured for him to go for it.
"I'm too big to fit in there," he pointed out between clenched teeth.
"Then I guess you should have thought about that before you waited until the last minute to complete this project," she said, deciding that she'd wasted enough time discussing this and moved to step around him when things took a turn for the worse.
"Wait. What are you doing?" she couldn't but ask when she suddenly found herself thrown over his shoulder and-
"Wait! No!" she rushed to get out when she found herself put on her feet in the doorway of the room that she really didn't want to go in, the flashlight in her hand, and the door closing in her face with a, "Remember, we're looking for something pretty."
©Rerum Carta Industries, Inc. 2020. All Rights Reserved.
Now Available…
Irresistible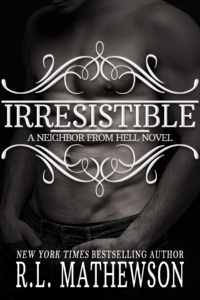 From bestselling author R.L. Mathewson comes the long-awaited Neighbor from Hell Novel…
Irresistible.
There weren't many things that Aidan regretted, but that night he'd spent with the woman that he couldn't stop thinking about was definitely one of them. He'd always been careful, always did the right thing, and now…
Now he had to figure out a way to fix this before it was too late.
Melanie still couldn't figure out how one night could change the rest of her life. She should have done a lot of things differently that night, she should have turned him down, should have spent the rest of the night wallowing in self-pity, but that's not what happened and now, she needed to figure out how she was going to survive this pregnancy with a Bradford doing everything in his power to make her fall in love with him
Amazon ♦ iBooks ♦ Barnes & Noble ♦ Kobo ♦ Smashwords.com